Well, after reading the rest of the thread on last Saturday's ride, I can't say I'm too bummed that I missed it. I hope the Yammies can get their wheels back in shape (round!) in short order. Meanwhile, I thought I'd share some pics of why I was absent...
Ever since I picked up the VFR (for a while before that, even), I'd been itching to take a longer, multi-day trip somewhere. Vic (fiancee) wasn't too hot on the idea of riding that far, but I managed to bribe her by choosing Hot Springs, Arkansas as the destination, and getting a bath/massage package while we were there. I picked her up Thursday afternoon from Addison (her work) and we were off to Paris. By the way, its pretty funny to call up friends, and when they ask what's up, reply, "Oh, we just decided to take a weekend vacation... we're in Paris right now. Yeah, Paris... we just got back from seeing the Eiffel tower..."
Somewhere around Wylie, finally out of DFW traffic!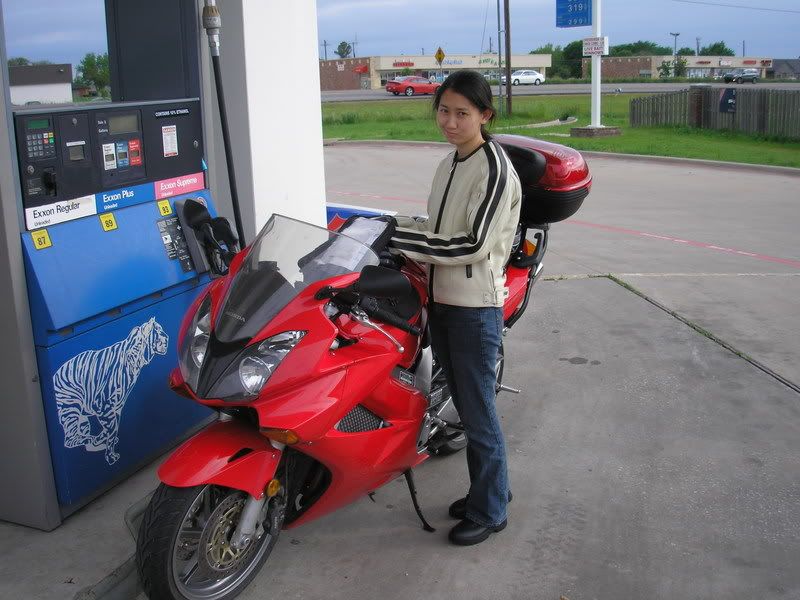 At the Eiffel Tower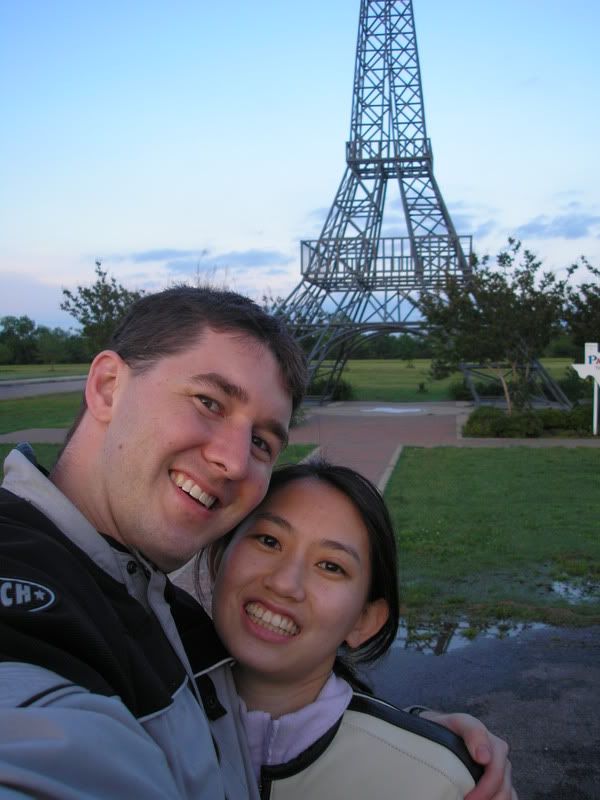 Obligatory bike shot
Friday morning started chilly and damp. We headed up 195 northeast from Paris, through Idabel, and up the 259 scenic highway. It was foggy from when we left Paris, but going up the hills in Oklahoma it got pretty thick. Finally, after getting down out of the hills and hanging a right towards Mena, it cleared up and started getting warmer. After a lunch in Mena (The Skyline Cafe, a great little joint) we headed up to Ola, then down 7 to Hot Springs.
Vic lookin cute in her rainsuit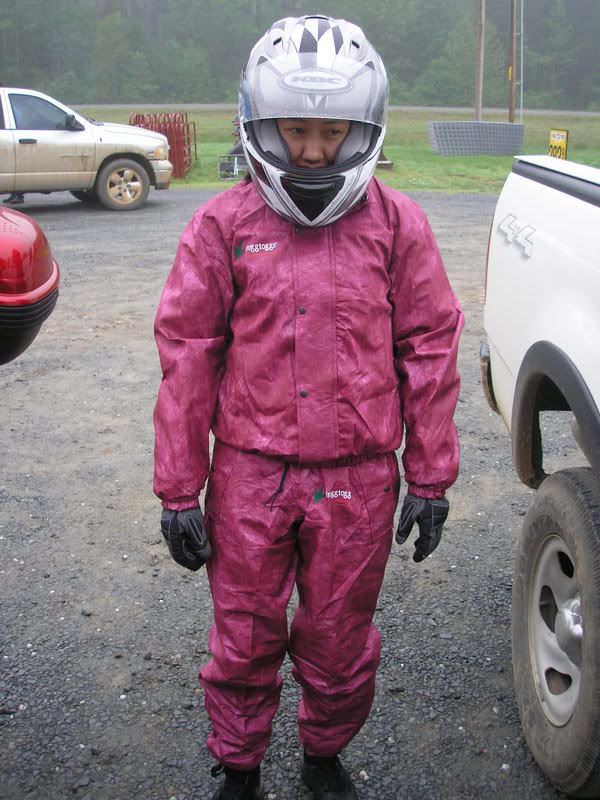 Fog at the Three Sticks... I was taking turns marked 25 at 20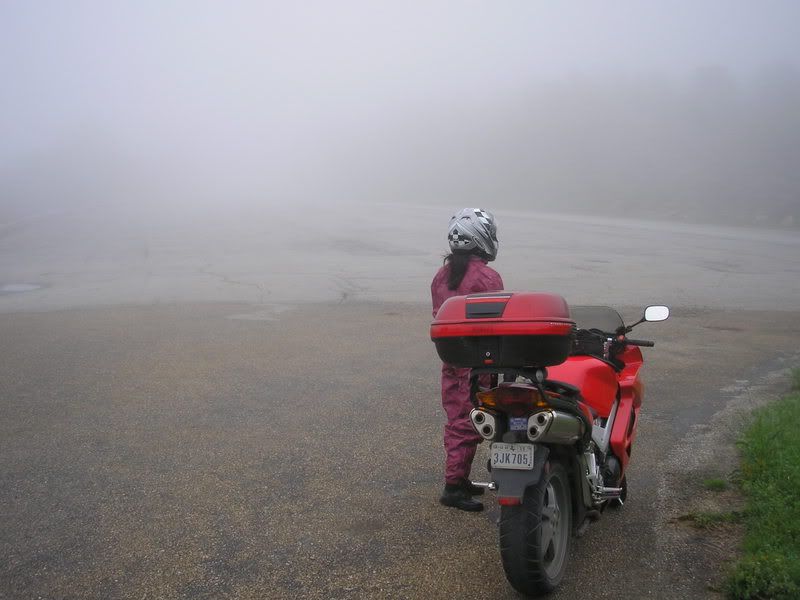 We pulled into Hot Springs at about 3PM. Talk about a cool town! The main drag is great to just walk along... lots of restaurants, bars, shops, etc. There are fountains all along the sidewalks throwing off steam because they're fed by hot spring water. HD's were EVERYWHERE. I think I saw a few hundred hogs while there, and maybe a dozen sportbikes. Quite different then here, where I notice about an even mix. I thought the windy roads up there would attract more sportbikes, but I guess that's not the case.
We ended up staying at a nice historic-looking hotel called the Arlington. It was a neat place... the suites are named for the various notables who stayed there. We saw the Reagan Suite and the Capone Suite... I wanted to go check out what existed on the other floors, but never got around to it. The hot tub up by the pool is fed by hot spring water, so you don't smell all chlorinated when you get out. And the bath experience was something else... I've never felt as much like an overcooked spaghetti noodle as I did when I stepped out of that tub.
The Arlington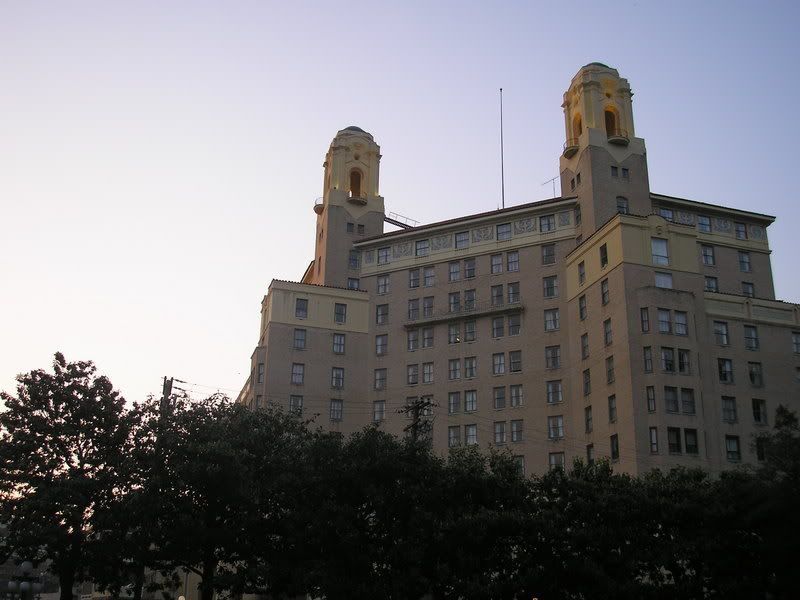 Steaming Fountains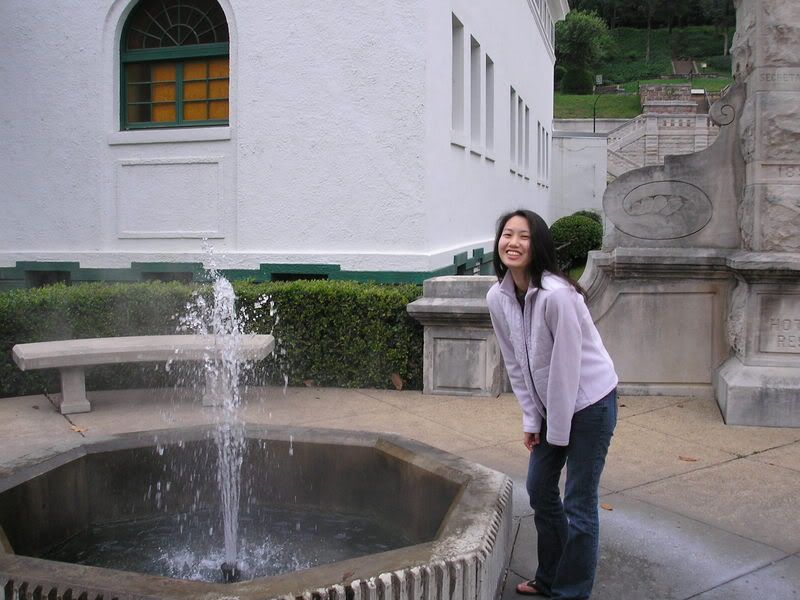 Cascade Spring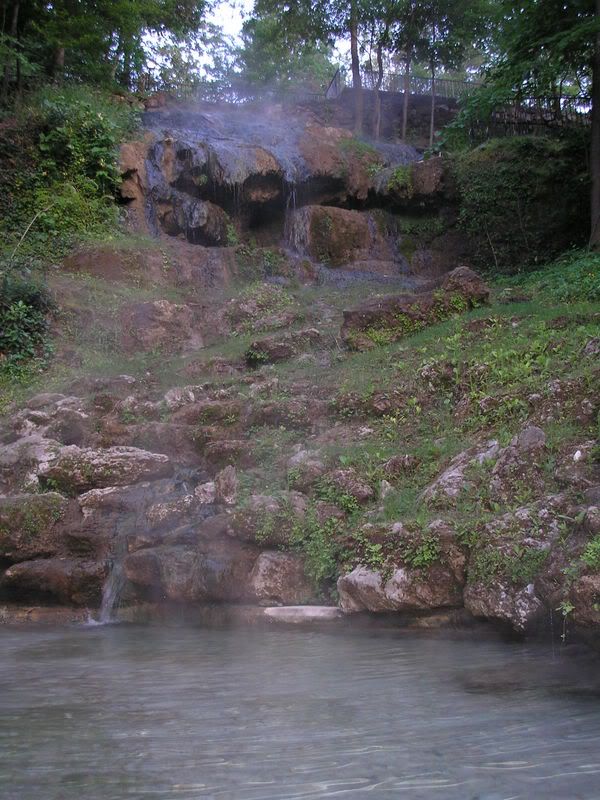 When we pulled into the garage, we were the only bike there. The valets told us to go park up against a wall near the corner. When we came out the next morning, we were surrounded by 15+ HDs.. had to thread my way out. Nice photo op though...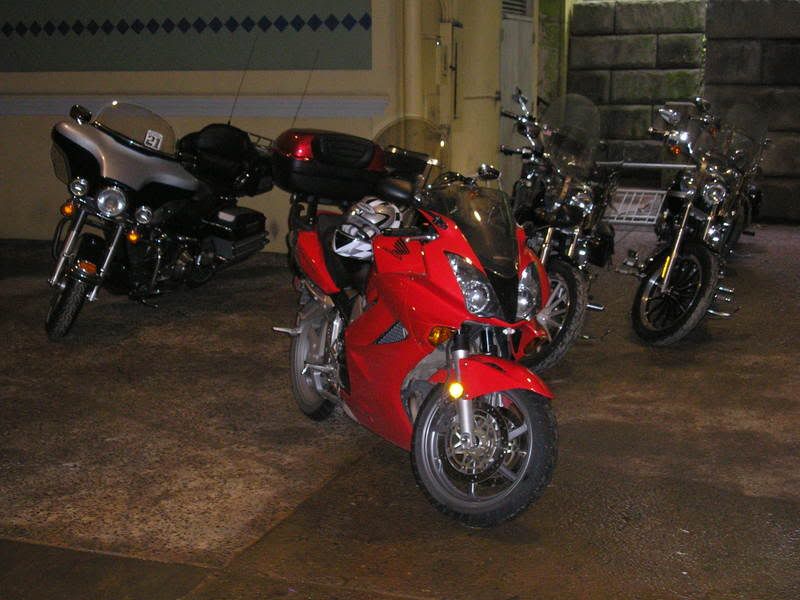 We headed out of Hot Springs Sunday morning, through Murfreesboro, Nashville, Texarkana, Linden, Gilmer, to Addison to pick up Vic's car, and back to FW. While crossing Lake Tawakoni, just outside DFW, I noticed a cop behind me. As soon as we got off the causeway, the lights came on. Doh! 61 in a 50. The cop was cool and let us skate with a warning, though. I didn't mention to him the 800 miles of 80 in 50s that we had done over the past 3 days.
Finally made it home at about 4PM, after 912 miles, no tickets, crashes, rain, or anything else bad except for a pair of somewhat sore butts. Definitely a fun trip. Next time I think I want to head south--San Antonio and 335/6/7. Gotta get planning...
Home!