So, my 25th birthday was on August 10, and Vic decided to take me (or rather, let me take her) on a bike trip down to Hill Country. We had a great time and took a few pics, so here goes...
Day 1
Packed up and ready to leave Fort Worth at 7:30 Friday morning
Heading south with the sun to the east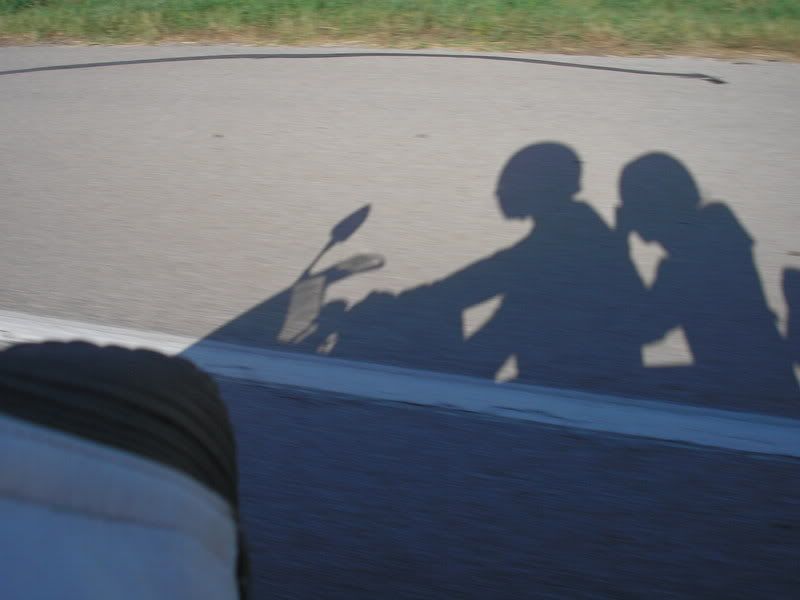 Somewhere on 1047, north of Lometa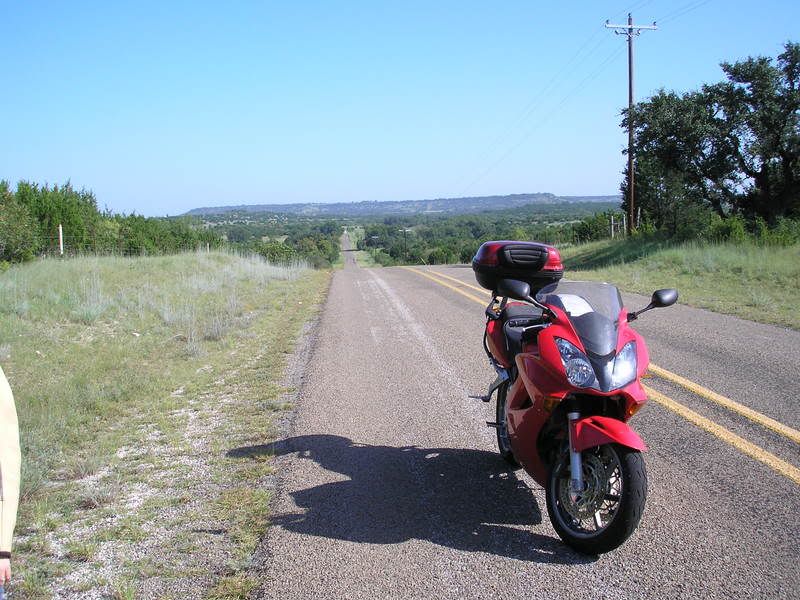 When people leave buildings behind... the horses take over. 3 of 'em, trying to keep out of the sun.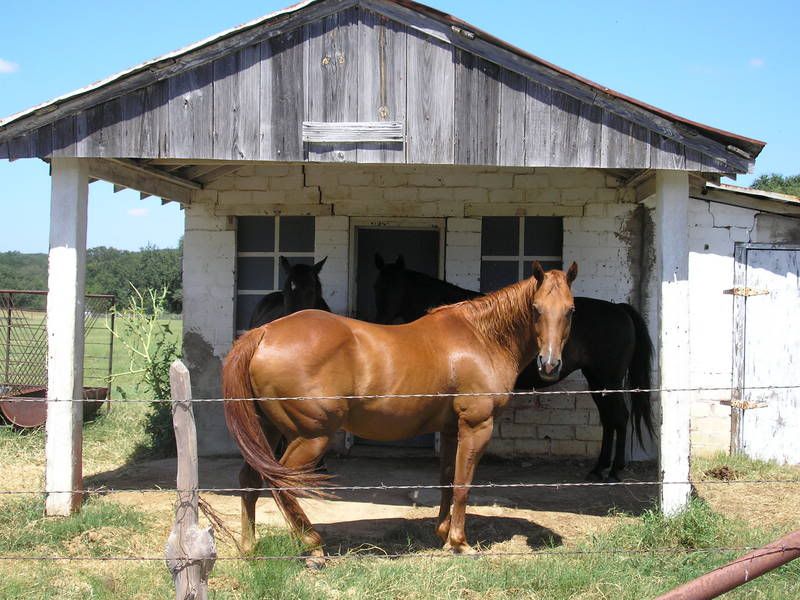 Enchanted Rock State Park, north of Fredericksburg. Supposedly the site of human sacrifices, way back in the day...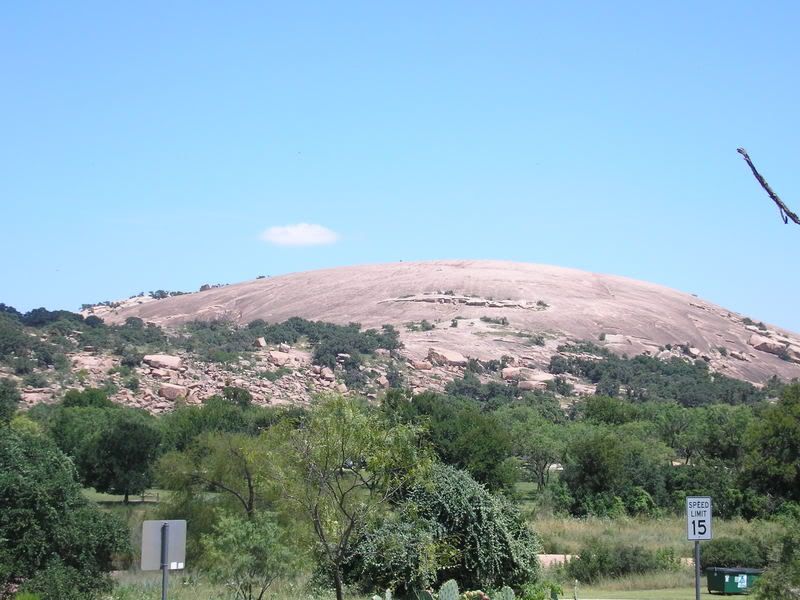 Wine tasting in Fredericksburg
We bought a bottle. Vic was excited about this.
Stopped off in Luckenbach. This has got to be the coolest little town ever. Seriously, how many places can you think of that have a bar (no, not a bar. a SALOON) in their post office building? With a couple of old-timers chilling around outside strumming tunes for whoever wants to sit and listen while catching some shade under century-old oak trees? I read a quote... "Luckenback is a place that you never want to return to after you've visited once, because you're afraid it might have changed."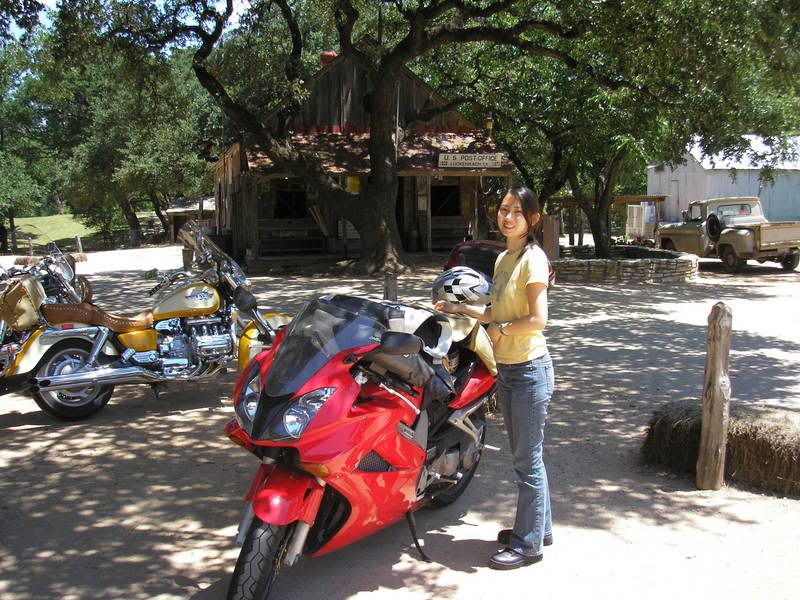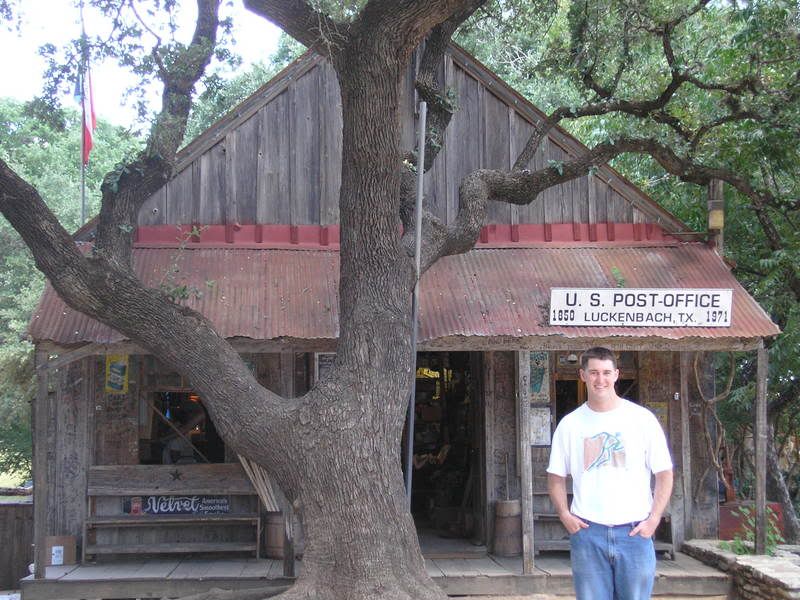 Scenic overlook on 337 between Medina and Vanderpool
Arrived at the D'Rose Inn, in Leakey. Great little place to stay when visiting hill country. It's a motorcyclist/bicylist only inn... they won't give you a room if you're not riding something. No TVs in the rooms, just a central pavillion area where everyone congregates to talk story, chill, and eat. Its something to experience.
Day 2
Saturday was spent exploring the area and trying to hit up every worthwhile road we could find. We started early in the morning by heading up 336 from Leakey. A pretty fun road, not as technical as 337, mainly alot of fast sweepers as the road follows a high ridgeline. It runs through open range, so you get to see alot of random animals, like a flock of sheep grazing alongside the road (that ran away before we could get a pic).
Driveway entrance off of 336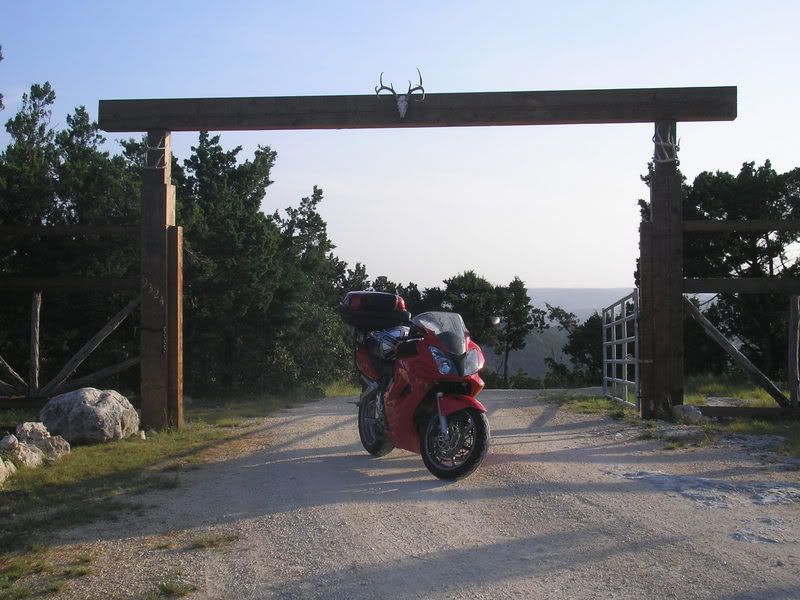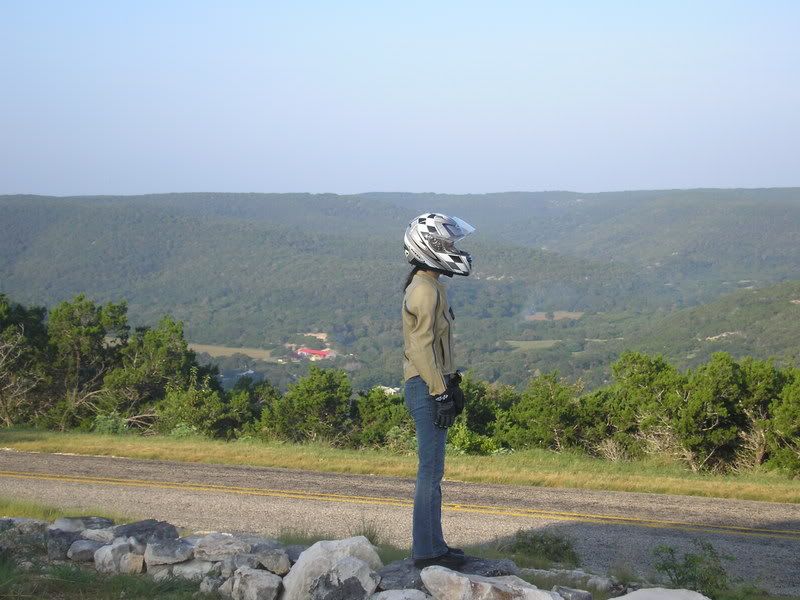 Headed across on 41 and then down 335 to Camp Wood. There is only one way to describe 335: ROLLERCOASTER. If you get seasick easily, this is not the road for you... but if you can handle it, it is a blast. Up and down and up and down, cresting blind hills and feeling weightless before accelerating down the other side and nearly bottoming out the suspension at the trough and rocketing up the other side... WOOHOO! Of course, the downside to cresting blind hills at extralegal speeds is that you might find something unexpected on the other side, such as slow moving vehicle, law enforcement officer, or a piece of roadkill covered with 30+ huge vultures that scatter as you tear down the road towards them, full on the brakes, ducking and praying that you'll come out unscathed as you barrel through a maelstrom of black wings and bodies flapping all around you and you just want to close your eyes but you have to see where you're going and you finally come to a stop at the crest of the next hill, not breathing, heart racing, and silly fiancee on the back LAUGHING HER FREAKIN HEAD OFF and babbling about "bowling for buzzards" or somesuch crap from "The Lion King." Um, yeah. Care to guess which of those three options we encountered?
335
Random exotic game ranch along 335... Kangaroos, camels, and ibex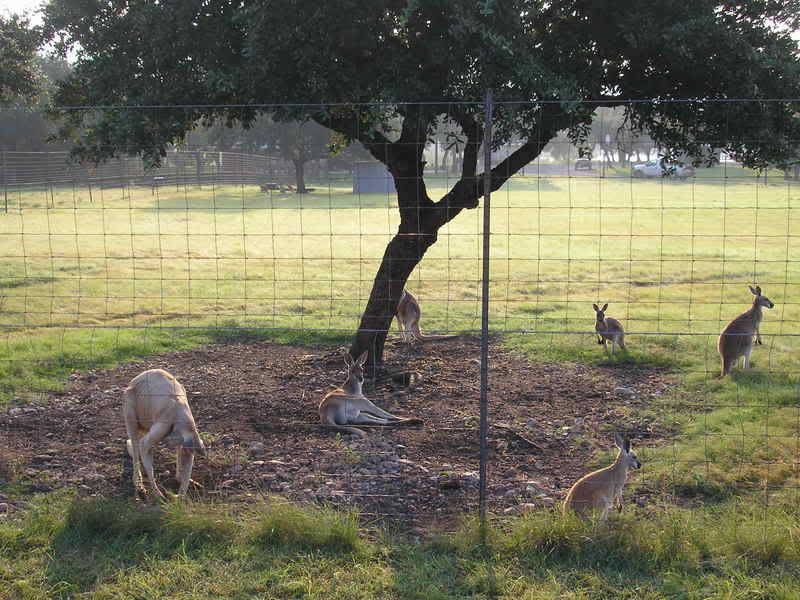 Breakfast at BJ's in Camp Wood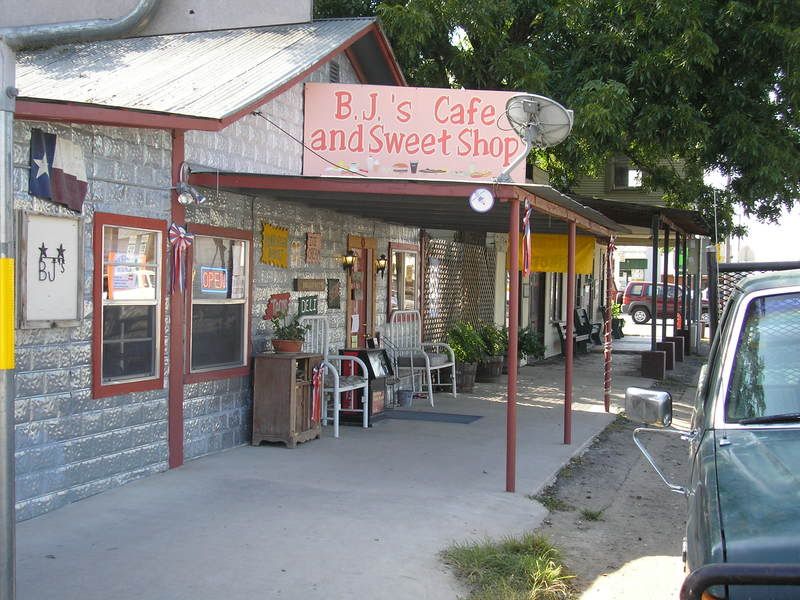 Parked outside BJ's. Old vs New.
Headed back across 337 to Vanderpool, then north on 187 to the motorcycle museum. Water crossings everywhere, but nearly all of them were low enough so as not to cross the road.
Contemplating our next purchase--a 1916 Royal Enfield sidecar rig?
Artsy shot by Vic of a Vincent Black Night
After the museum, north to Hunt, where we found... Stonehenge!??!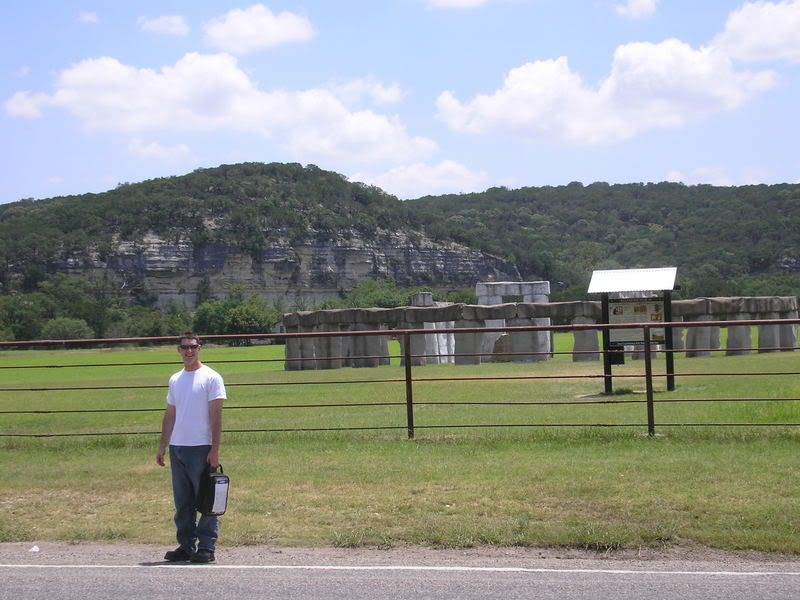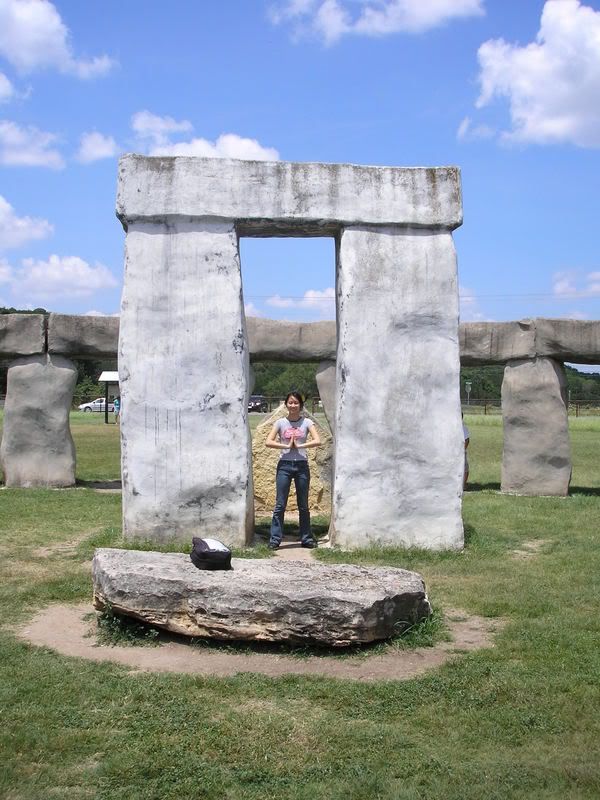 Then south to Medina, where we stopped at an apple orchard and had some fudge, and picked up a bag of apple coffee. No review on that yet.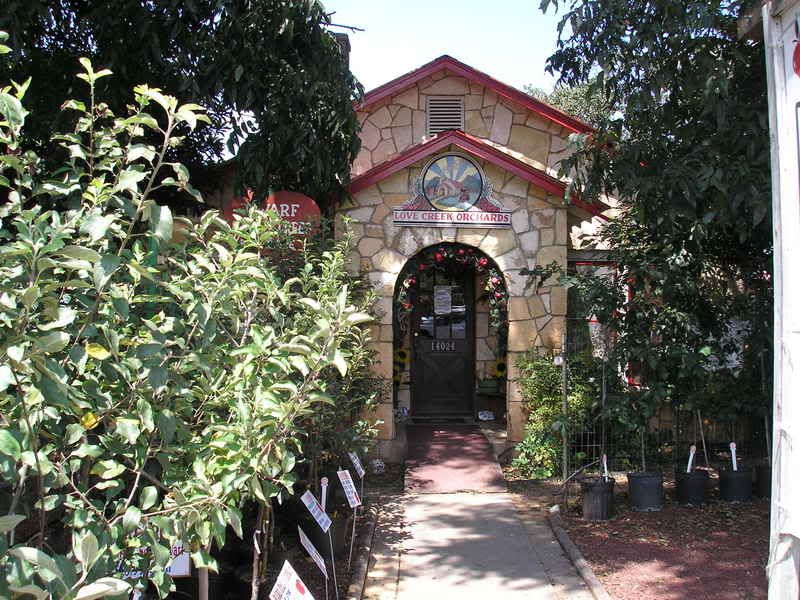 Then on to Bandera, where we ate at OST, a really cool joint with a whole room dedicated to a fellow Trojan alum, John Wayne. Can't belive I didn't get any pictures of that place. Oh well, next time! Finally, back to Leakey via Tarpley and Utopia.
Day 3
Ready to head out from D'Rose Sunday morning. Sing with me: "Which one of these is not like the others?"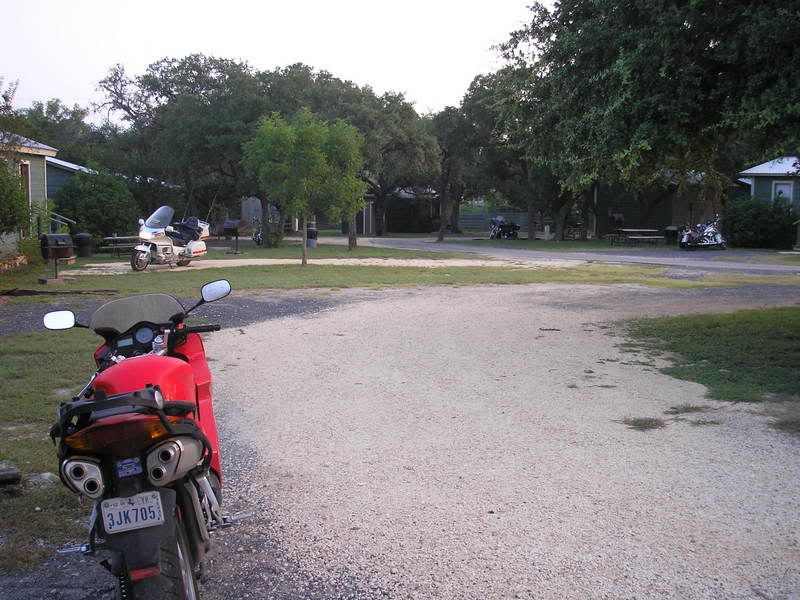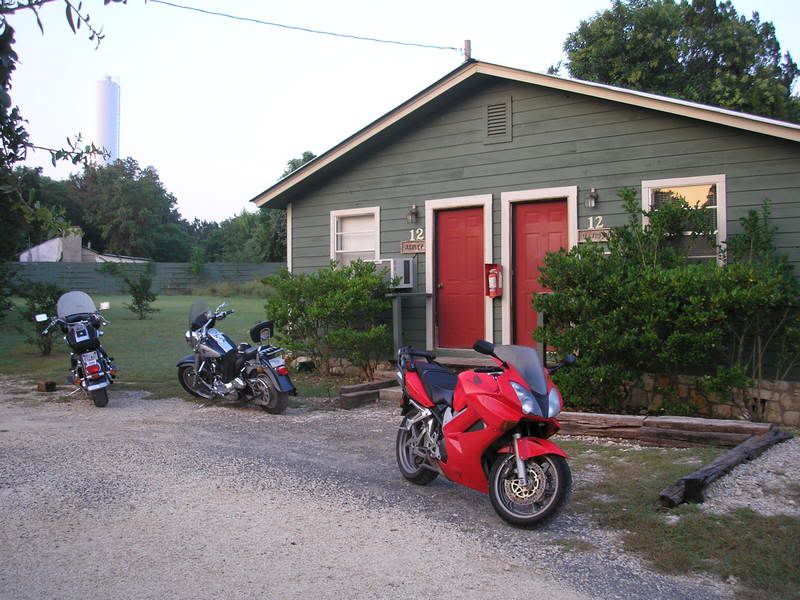 Headed west on 337 towards Camp Wood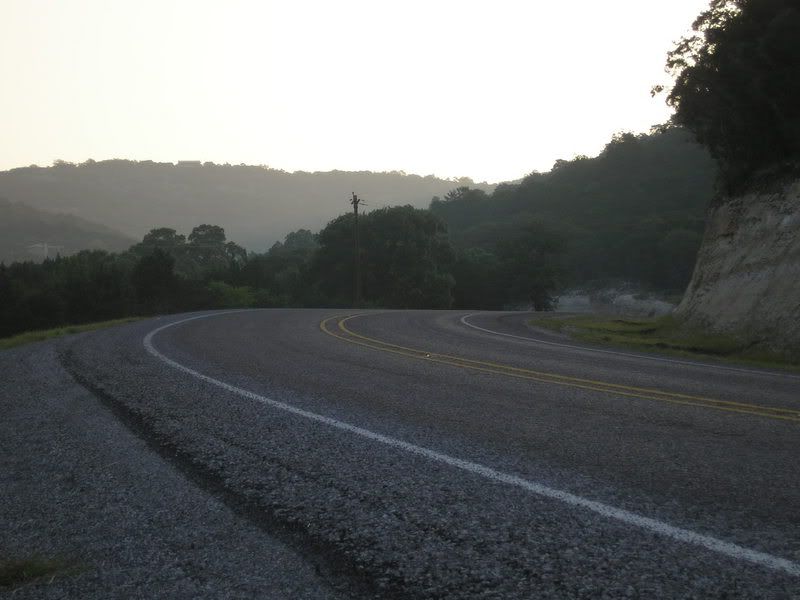 Headed up 335 (had to do that rollercoaster one more time!) we came across two things you don't normally find in DFW: wild turkeys, and 35mph curves.
Shiny!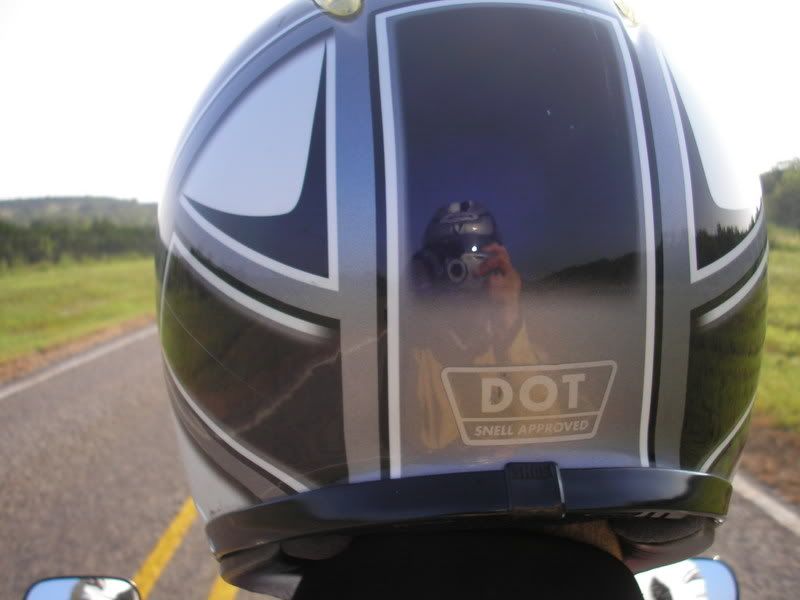 Blasting up 377
A picture of a reflection of a shadow of us. Got that?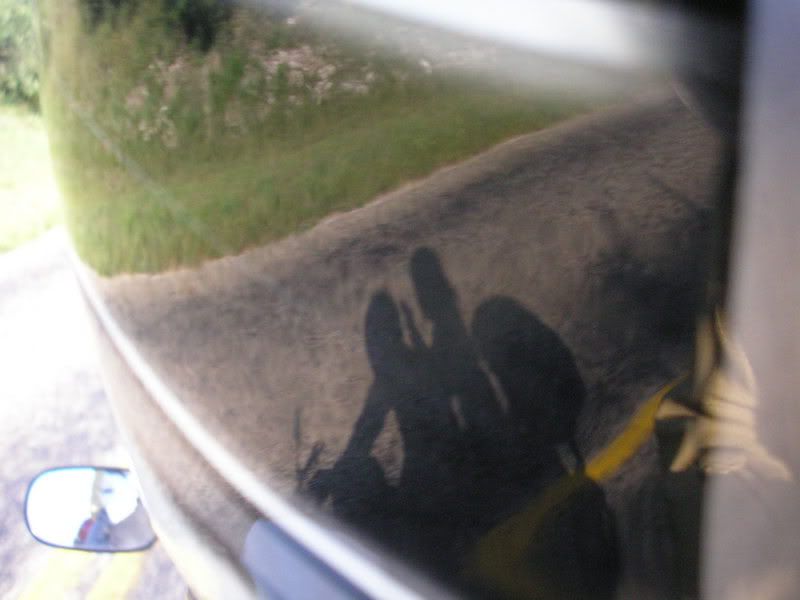 Gas station in Telegraph, just south of Junction
Last trip we took, we went to Paris. This time it was a UK theme - London and Dublin!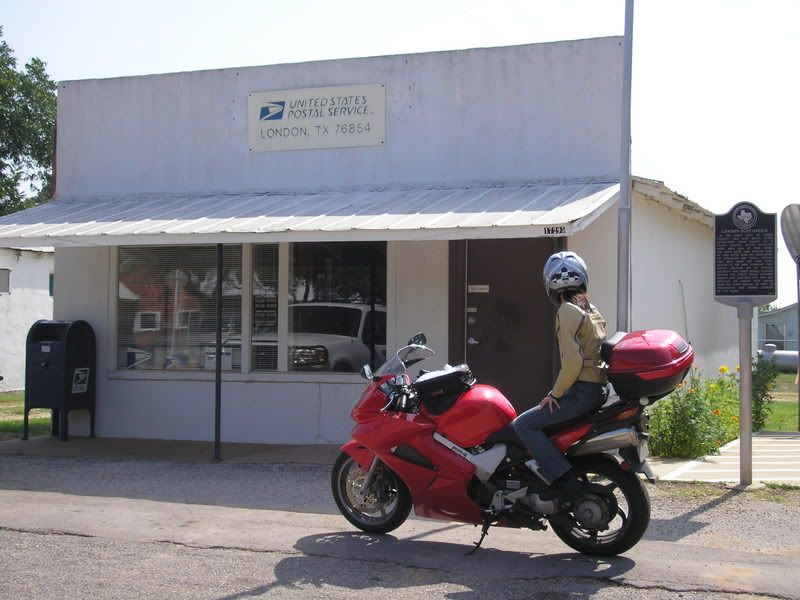 This is where they send your bike if you spend too much time at 120+. Whoops.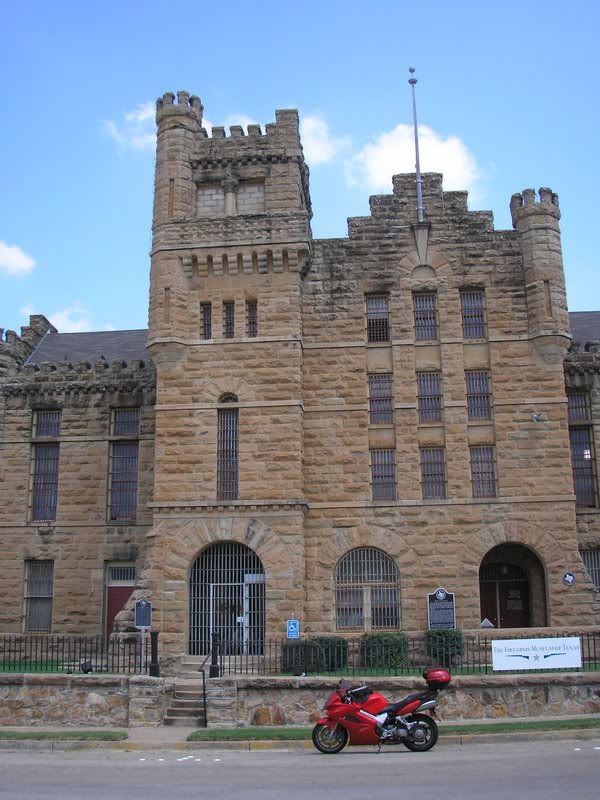 Cool story about an old oak tree in downtown Comanche
Stopped off at Hard 8 for some lunch, then on to home! 940 miles later... what a great trip!