It's been a while since Vic and I had the opportunity to jump on the bike and go exploring, so when I realized that this weekend was free for us and the weather was supposed to be nice, I started making some plans. I had several options of where to head in mind, and decided on meandering southwest to San Saba, with a visit to Colorado Bend State Park for some hiking and swimming. Here's how the trip went...
Day 1
Map!
Saturday morning, 8:30 AM. 58 degrees F, forcast high of 85 over the weekend, 10% chance of rain. A bit nippy, but otherwise just about perfect weather. We're packing up the hibachi and Vic asks if we're going to bring the rainsuits... "Nah, it's not going to rain." We gear up and get on the road!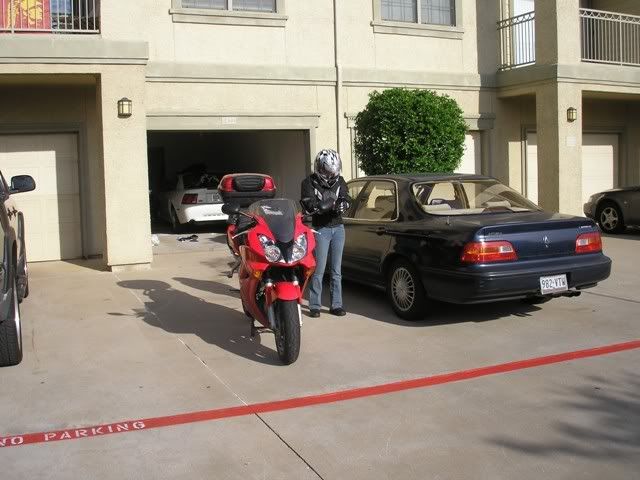 The clouds are light and fluffy and make cool reflections in my helmet as we run down 360 to 157, then cut westward across Lake Whitney.
Then through Clifton and Cranfill's Gap for some of the really fun stuff…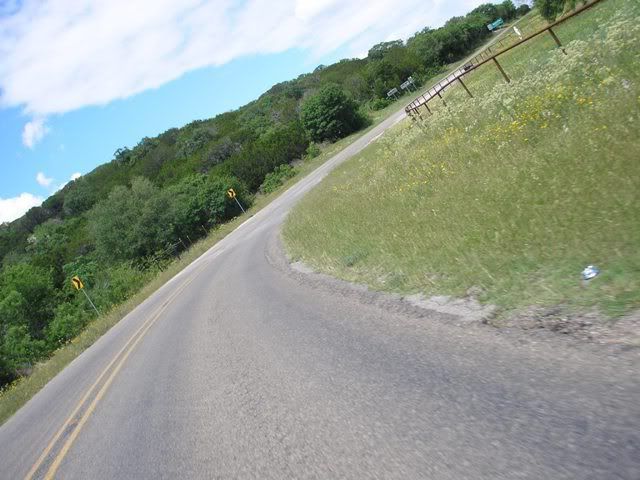 Passed a local standing on the side of the road just outside of Cranfill's.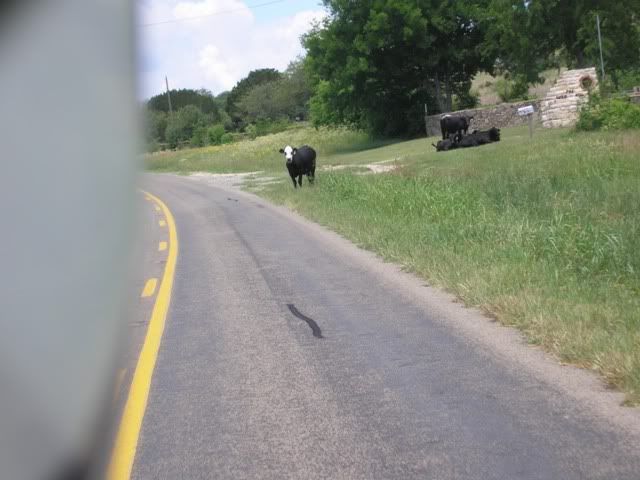 The clouds started to darken as we turned south for Hamilton.
Vic playing peek-a-boo in front of the Hamilton courthouse…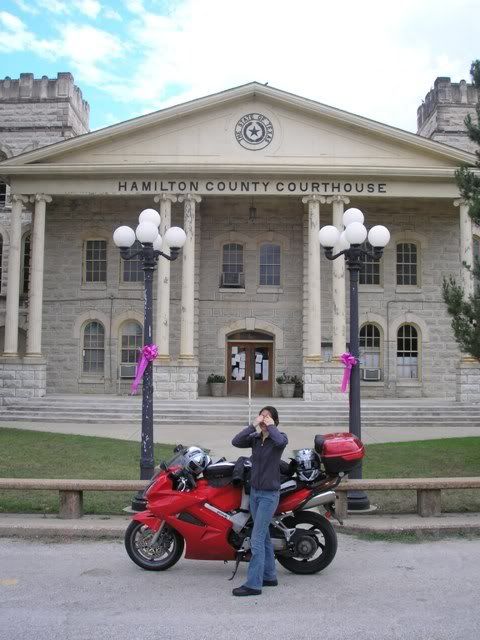 We walked across the street to a neat little drugstore. The signs on the storefront read: "Antiques, Old Tyme Remedies, Soda Fountain, Unique Gifts, Bridal Registry, Rx Compunding." Vic was intrigued.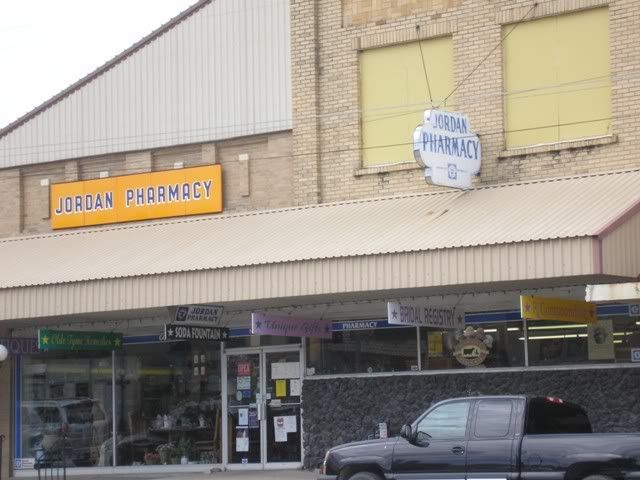 We got some ice cream (it was pretty warm by this time), and Vic decided to try the 'cherry limeade phosphate' that the guy behind the counter described as the equivalent to soda back in the '50s. It was quite tart, but kind of tasty once you got past the initial bite. Vic also commented that the packaged dill pickles (on the rack to her right) looked tasty, and the guy looked at me and said "Hmmm, ice cream and pickles? That's not a good combination, sir…" and then proceeded to tell us which aisle the prego tests were on!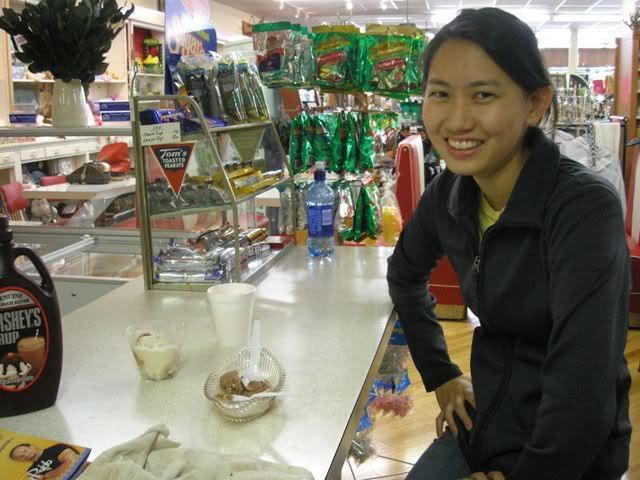 We walked out of the drugstore and Vic asks, "So you're sure it's not going to rain?" No, it won't. I'm confident.
We arrived in San Saba at about 2:30. The plan was to check in to our room at Burnham's Lodging, head down to Colorado Bend for the afternoon, then head back north Sunday morning. However, Vic was quite bushed (we'd stayed up kinda late the night before), so she wanted to lay down and take a nap. We decided to just hang around in town for the rest of the day, then do the park the next morning. While Vic was sleeping, I wanted to get a quick snack, so I walked over to a crawfish boil fundraiser that was taking place in front of the courthouse. $5 for a 1'x2'x4" cardboard box filled with 8 or 10 pounds of boiled crawfish, corn on the cob, grilled onion, etc. Durr… Me: "I just wanted a snack, man!" Crawfish Boilin' Fellow: "Well that's what you're getting! $5 more and it's all you can eat!" So what can I do? I sat down, started chatting with a guy from Houston, and started eating. An hour later… "Uhhh… I'm kinda full…" Yep, I ate the whole box. I wish I had a picture—I left the camera in the room. Doh!
After I'd had a chance to let my stomach settle, I woke Vic and we headed out of town a bit to go exploring. The clouds were still looking dark and threatening. Vic looks at me: "You SURE it's not gonna rain?" I'm less confident now, but still belive… "Nah, it's not gonna rain." Our first stop is a tree called the 'Wedding Oak,' as it was the site of many Indian marriages, and the early settlers kept up the tradition—the historical marker said that on Christmas Eve of 1911 three weddings were held there in one day. As we pulled up to it, the drizzles started. No, it's not RAIN, just drizzle. Dammit. We took shelter under the massive tree anyway.
After a few minutes, the rai-DRIZZLE lets up, and we continued on our way. Next stop was one of the oldest suspension bridges in Texas, the Beveridge Bridge, built in 1896. It was fun to jump up and down on it and watch Vic get green in the face.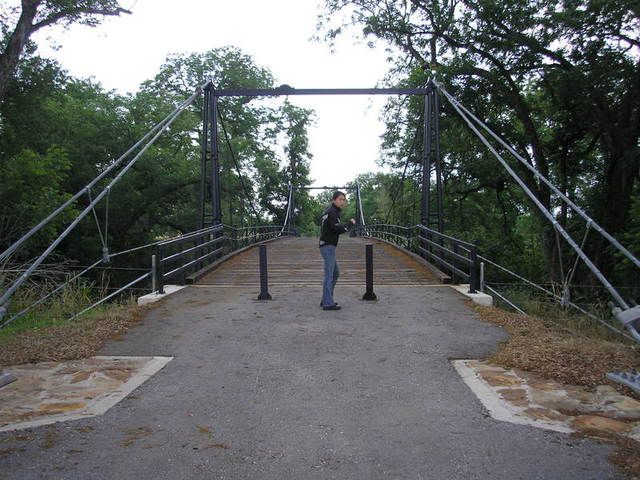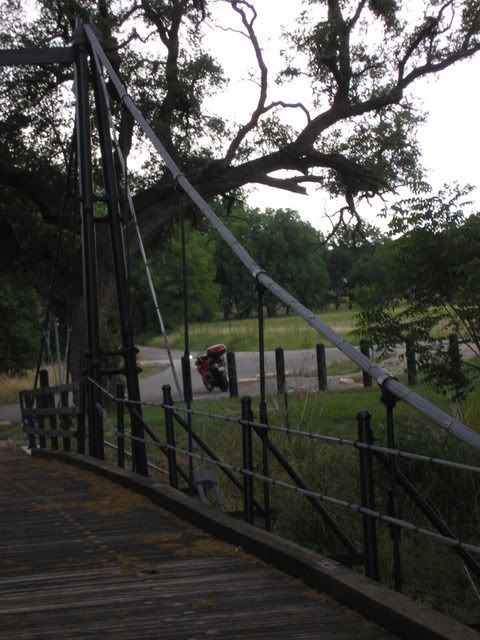 Still drizzling.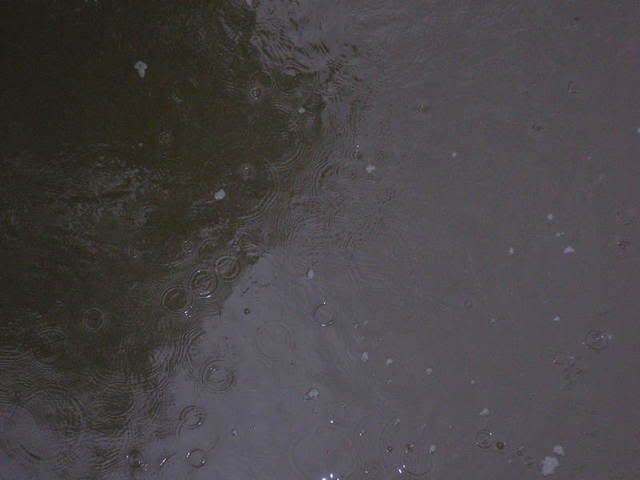 We decided to head back into town and find some food before the precipitation got any worse. So much for wishful thinking, right? We had barely gotten back on the road when I was forced to admit that yes, it was raining. And before long, pouring.
We made it back to our place in San Saba in just a few minutes, but enough time to soak our jeans and dampen our shoes. Luckily we were both wearing our Cortech jackets which keep the rain out decently well. Unfortunately, because it WASN'T GOING TO RAIN on our trip, we neglected to pack extra pants. So, after a hot shower to warm up, we had to get back in our damp, cold jeans to go find dinner. At least it stopped raining. Grrr.