Over Thanksgiving weekend, my fiancee Victoria and I took a ride out west to do some exploring, with the main destination being Big Bend National Park. We had a great trip and took alot of pictures, so here is the story!
Day 1: Wednesday, 11/26/08
Euless to Brady
Map!
While I was able to weasel my way out of work on Wednesday, Victoria had to go in and show her face for at least the morning hours, so we couldn't leave until after lunch. I took advantage of my free morning to make an 80-mile roundtrip ride to Maxim Motorsport in Allen, where I was able to exchange my Gerbing G3s for a new set (the left glove had stopped working a week or two before, and Maxim wasn't able to get new ones in until that day). Once that was done and I'd returned home, I started the task of loading up the motorcycle.
Our previous trips have all been 3- or 4-day affairs in pretty agreeable weather, and we've never had to pack more then the Givi E460 could hold. However, this trip was a bit longer, with a wider range of temperatures, so on went the canvas sidebags. The sidebags held a minimal set of tools, a flat repair kit and 12v air compressor, rainsuits, warm-weather gloves, and a handful of spare clothes in ziplock bags, while the Givi held most of our clothes and toiletries. We would both be geared up in our Cortech jackets with heated liners, jeans with snowboarding overpants (yes, I know we need to get some actual riding pants, it's in the works), Sidi touring boots, winter gloves, and our helmets equiped with Scala-Rider Q2 communicators.
And we're off!
We were on the road headed southwest by 1 PM... overcast, with temps around 60. Traffic wasn't too bad getting out of DFW (one of the advantages of leaving near midday), and we made pretty good time down 377. We started getting hungry after a couple hours, and stopped off at CJ's Diner in Comanche for a late lunch/early dinner.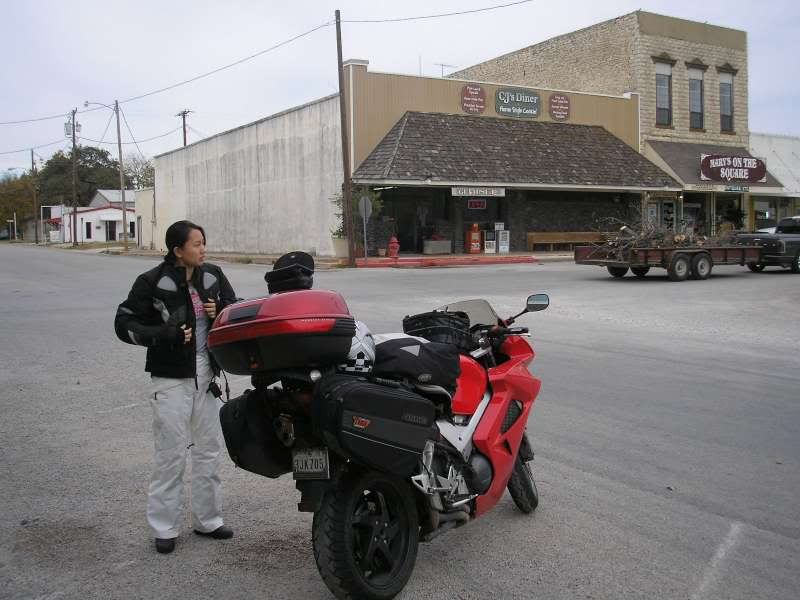 Browned sausage in a bowl of gravy. YUM.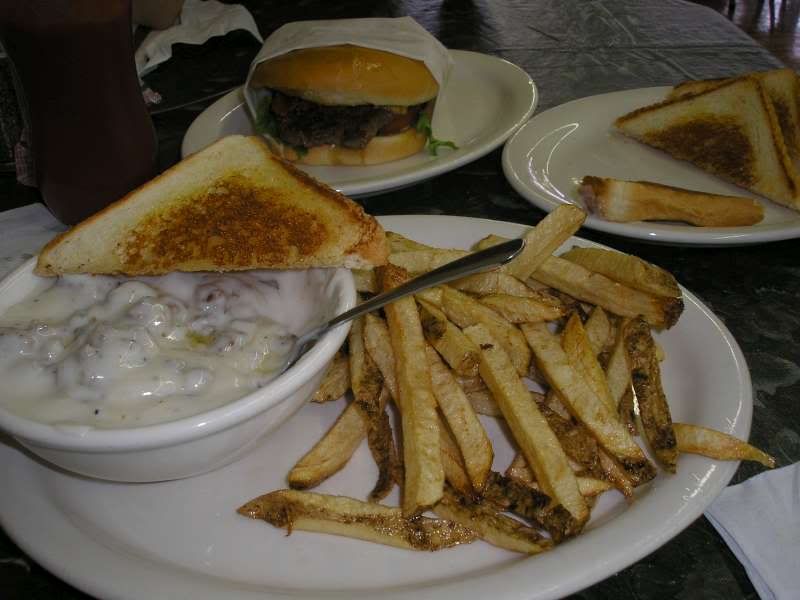 We had considered stopping in Brownwood for the night, but we were still feeling OK when we passed through, so we decided to press on to Brady. Speeds slowed a bit as the deer started coming out of the woodwork... we must've seen a dozen live ones and countless dead ones on that final stretch.
We have a habit of pulling over to examine random roadside historical markers, and taking pictures of the more interesting ones... for you native Texans, no, this does NOT mean we were at the center of the universe, as well.
A short time later we were checked in to a Day's Inn in Brady, getting some rest for the beginning of the real ride. We had knocked out 201 miles in just under five hours, including all stops. Tomorrow: to Marathon!