Hello, all! Welcome to the story of our latest adventure, an 11-day, 2600-mile tour through the southeast US. This trip had it's beginnings this past winter, when one of Vic's longtime friends moved from California out to Knoxville, TN. Vic mentioned that she wanted to go visit Elaine in her new city at some point, and I agreed that it sounded like a fun idea. Her: "OK, I'll start looking for plane tickets." Me: "Plane tickets? Oh hell no, that's an hour from Deal's Gap! We're riding!" Her: "...." The pieces fell into place nicely; I was able to clear my schedule for a week and take the time off, her employer had just announced a week of forced vacation for everybody, and it was her break between semesters for her grad school. We decided to just book it out to Knoxville on a Thursday-Friday, spend the weekend with Elaine, and then spend the rest of the week seeing the other sights we'd wanted to hit: Deal's Gap, the Georgia Aquarium, Barber Museum, etc. The weeks before departure were spent prepping... planning routes, making reservations, upgrading the suspension on the VFR (yay!), until finally, April 23 rolled around...
Day 1 - Thursday, April 23
Euless, TX to Jackson, TN
557 miles -
Map
This was going to be the crappy day. The plan was to jump on I-30 and slab it east until we were pooped, which would give us some leeway the following day to get off the freeway and explore Tennessee. Poor planning led to Vic having to stay up late to finish a paper for school the night before, and I was busy organizing and packing all our gear, so I didn't get to bed until 1, and her until 2. However, were were still up at 5:30 in the morning, finished packing and had a quick snack, geared up, and got on the road!
The early start got us down to and through Dallas without hitting too much traffic. We made quick progress away from DFW before stopping at a roadside diner in Sulphur Springs to have a real breakfast.
Both of us were pretty full and sleepy at that point, so rather then jumping back on the freeway, I found the nearest city park on my phone, and we headed there to catch a quick nap. 30 minutes later, we were both feeling refreshed and ready to get going again, so we continued on. We crossed into Arkansas at Texarkana, and as the day warmed up we both became sleepy again, so we pulled off for another 20-minute nap at a park in Prescott, AR. Note to self: It's a good idea to get a good night's sleep before trying knock out 500 freeway miles.
We pushed on, pausing for lunch in Benton, AR, and finally reaching the Mississippi River at Memphis late in the afternoon.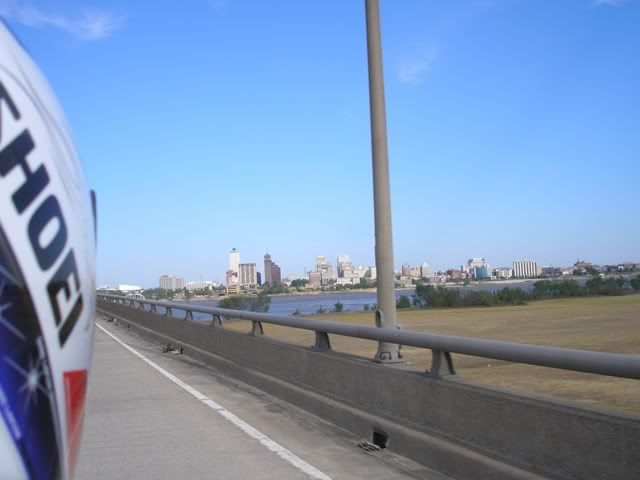 We pulled off at the Tennessee welcome center as soon as we crossed the river to take a break and pick up some free maps (visitor centers are such useful places!).
There were statues of various music legends in the visitor center... Vic was enamored with the King's backside.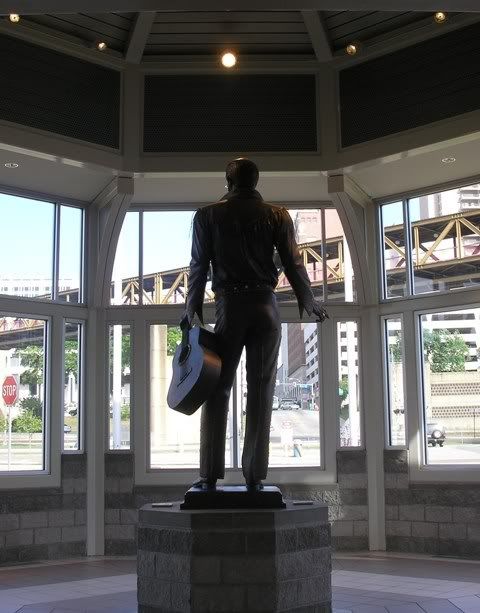 The decision was made to push on for another hour or so, which brought us to Jackson, TN. A lady at the welcome center had told us about this place called Casey Jones', which was supposed to be pretty neat, so we checked into a motel right next door and headed over to check it out. The $7 dinner buffet (courtesy of a coupon from our motel) was delicious, and the place was populated with all these old-timers who gather with their instruments and play. We were dead tired after dinner, but still stayed a while longer to watch and enjoy the music.