Day's route
Every Christmas, I get my two-week reprieve from the cold and gloom of Texas to visit my family and home back on the Big Island of Hawaii. It's obviously something I look forward to every year, but this year even more so, since one of my good buddies since high school, Chris, has started riding and got himself a GSXR-600 and a DRZ400 (he works at the local 'zook dealer, hence the brand loyalty). He promised me use of his bikes once I got back, since I've never had the chance to actually ride while back home, so I boxed up some gear and shipped it home. We rode around a few times together, up Saddle Road, around Hilo, and once I stole the GSXR for two days to go visit my sister overnight in Kona. I was lucky enough to catch some very nice weather for this trip, unlike last year when it rained on all except two days during my two weeks home.
Chris looks a bit grumpy since he hadn't got much sleep by the time I woke his lazy ass up so I could steal the DRZ for the day. It was my last full day at home, and I wanted to go ride out and see some of the stuff I hadn't had a chance to yet. I decided to head up to Volcano and visit the national park. First stop was back home in Keaau to pick up my jacket liner and some snacks.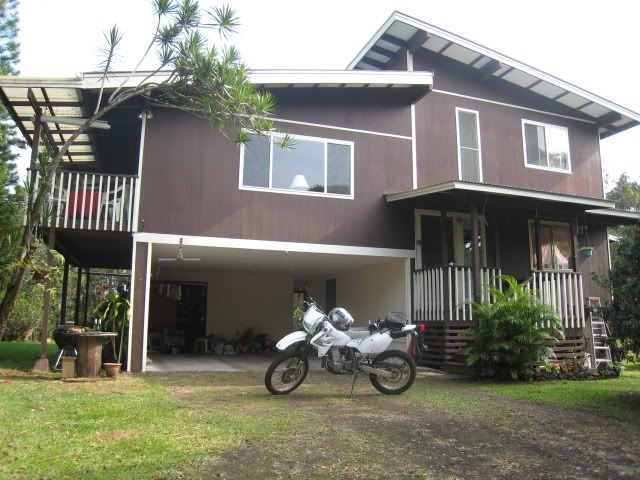 On the way up to Volcano, you pass an odd sight in Hawaii: a road sign with eight letters, and no vowels (as opposed to most road signs where at least half the letters are vowels):
The air quality was degrading quickly as I climbed towards the park--this was going to be a pretty hazy day. Combined with the tendency of mom's camera to overexpose pictures, and alot of mine ended up looking really washed out. I fixed them up as best I could, but you still lose a lot of detail.
Stop for gas in Volcano village. The DRZ consistently hits reserve at about 80 miles. This thing needs a bigger tank.
At the entrance to Hawaii Volcanoes National Park.
Air quality in the park was so bad that they had the whole visitor's center complex shut down, and you couldn't even go down the road past it in that direction. Crater Rim drive was open down to the Chain of Craters road turnoff, so I headed down that way and stopped at one of the Kilauea Iki overlooks. I was coughing in my helmet as I took this picture. The cinder cone in the middle of this picture is what's left of the vent that produced some
spectacular lava fountains
during the 1959 eruption.
Visible just behind and to the right of the cinder cone is Halemaumau crater, which was responsible for the crappy air today. I tried to fix this picture to make it more visible, but there was just a HUGE plume of steam coming out of the crater. It's vaguely visible in just about the dead center of this pic:
I continued down Crater Rim Drive for a bit more, until I hit this: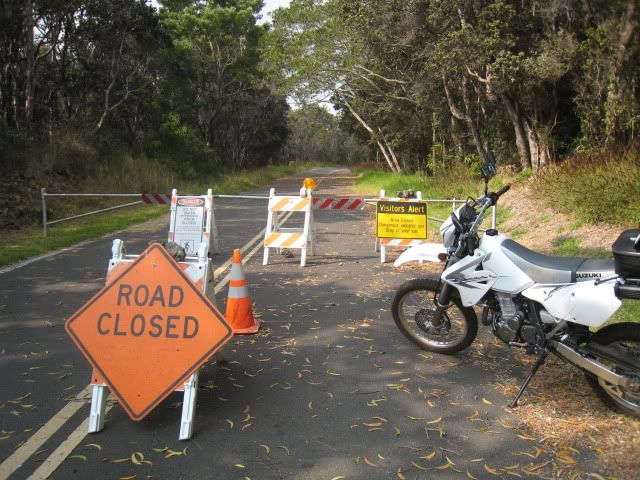 I was thinking about going down Chain of Craters road to the point where the lava came across the road back in the '80s, but decided to just head back out to the highway and head further south.
Much of the road across the Kau desert is pretty straight and boring. It's normally a decently scenic ride, with Mauna Loa on one side and the ocean on the other, but visibility today killed just about any views there were.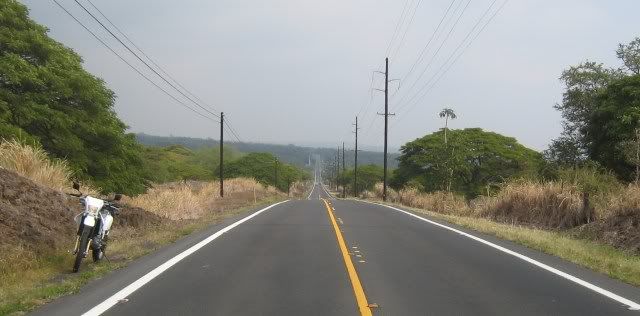 There's a 13,000 foot mountain
right there
.
Every once in a while you come across some worthwhile views, though.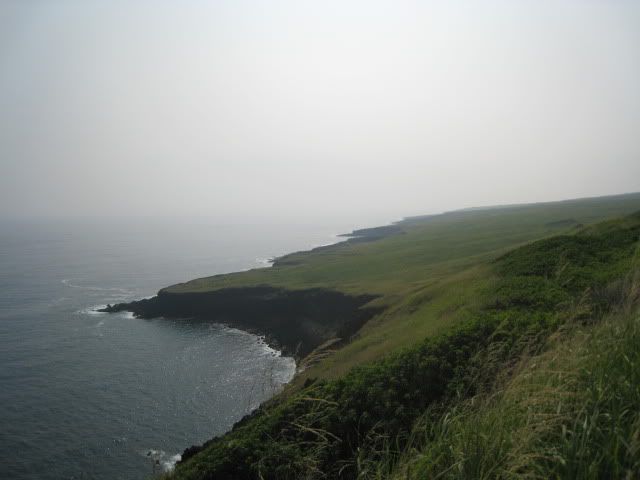 Stopped for lunch at the Punalu'u Bake Shop, famous for their sweetbread. Lunch kind of sucked, but their sweetbread still rules.
Just past Na'alehu, you can turn off the main highway on to the road to Ka Lae. It's a rough one-lane stretch of pavement across the windswept pasture.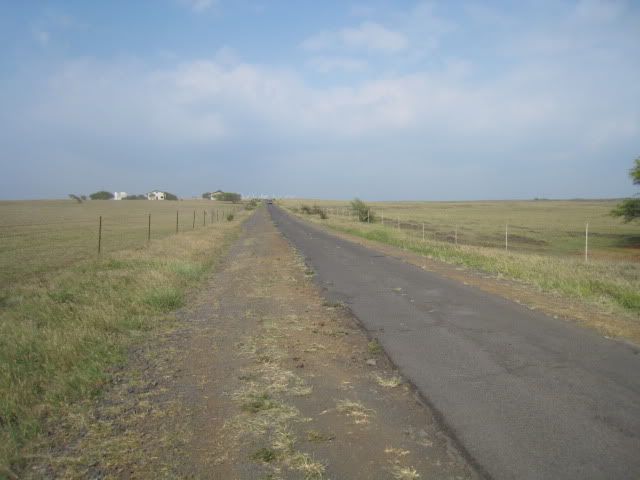 Follow it to it's end, and you're at South Point--as far south as it is possible to go in the United States. Lots of people come down here to go fishing off the cliffs.
The water looks so inviting, but I don't want to have to continue my ride in wet skivvies...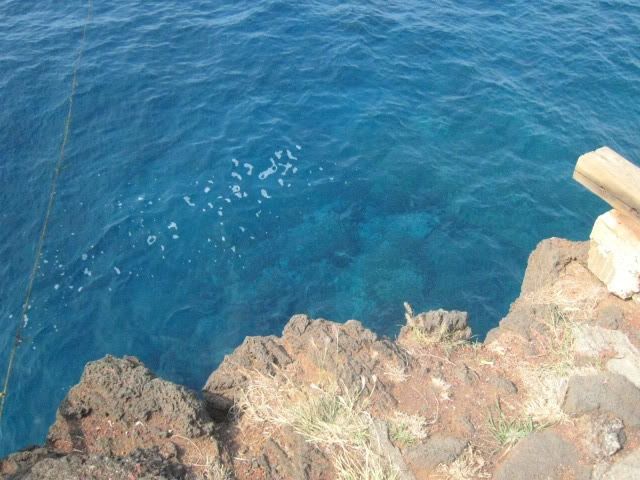 Following the dirt track along the coastline. Somewhere around here, I pulled out my phone (which was in the tailbag) to check my actual location. I decided to head up the coast for a bit to Green Sand beach.
I was hitting some dirt whoop-dee-doos at a decent pace when I felt something hit me in the back. I stopped, turned around, and realized that the tailbag was open, and my phone was gone. D'oh!!! I retraced my route for a while, but didn't see anything. I decided to just head on to the beach.
Most people end up parking their cars and hiking to the beach, as the road there is pretty rough. No match for the DRZ, though.
So many options of where to go...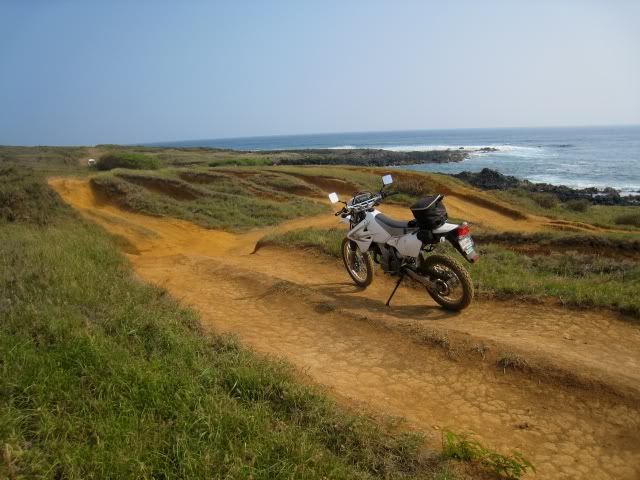 A few miles in, I reached Green Sand beach. This is an old cinder cone with a high concentration of olivine, and the ocean erodes it away and creates a black sand beach. The olivine tends to filter to the top of the sand during the wave action and makes the beach look green.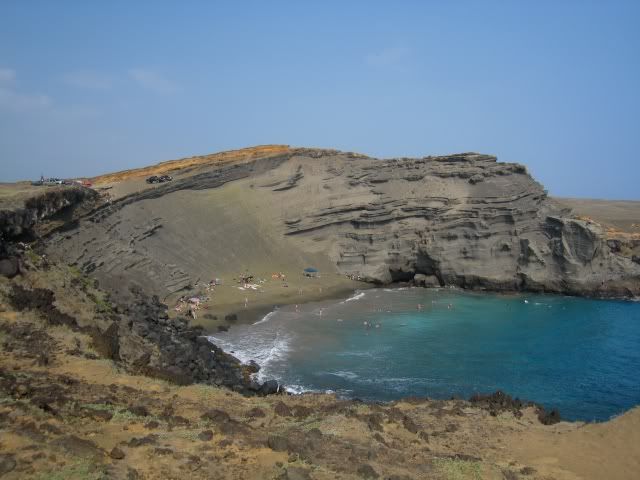 Coastline...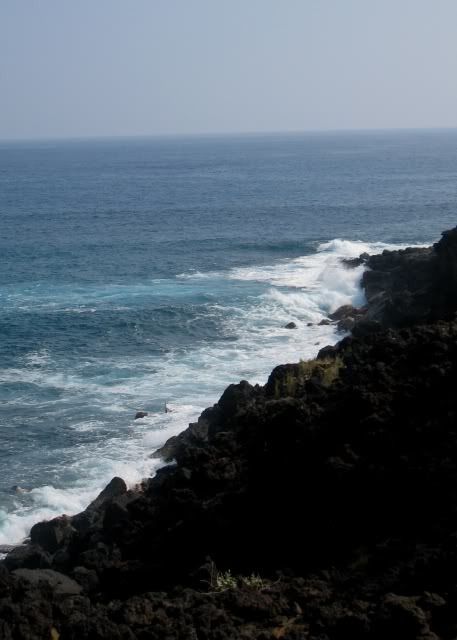 The noble steed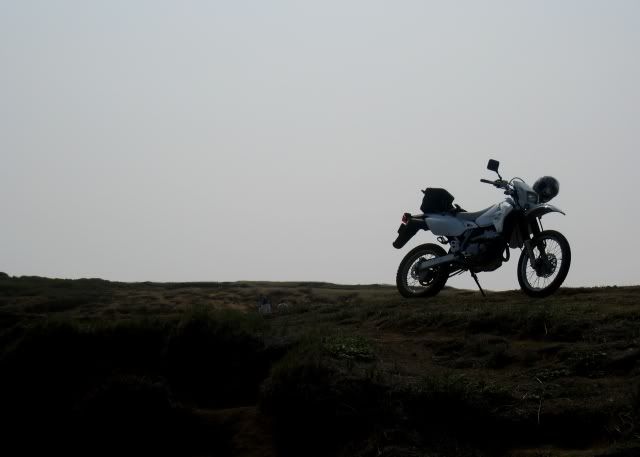 I had a bit of an oopsie on the way back. I was in one of those dirt tracks with three-foot high dirt walls on either side. I was in the right hand rut, came over a little bump and into a patch of deep sand (in the foreground of the picture). I gassed it, and ended up with my front wheel in the left rut and my rear in the right. Kept on the gas, trying to get the bike straightened out, when the rear wheel suddenly hopped the middle berm and the front wheel went straight up the wall. Ended up crabbing along the wall for a bit until I was able to get it stopped and pulled the front wheel back down to road level.
No harm to me or the bike, though.
Lava field fun...
I decided to cruise around South Point for a bit more and keep looking for my phone. My water bottle got bounced out of the tailbag as well, so I was without water during all that dirt riding, and it was pretty hot... I was quite thirsty. There were some nice people selling fresh-pressed cane juice to the tourists in the parking area, and they had some extra water that they shared with me. Also let me use their phone to call my parents and let them know that I had lost my phone, and not to worry that they couldn't get in touch with me.
Rode around for a while more, trying to retrace my route as best I could... no sign of my phone. Oh well. Found the missing water bottle, though:
Heading back north through the pastures.
Decrepit windmills
Some windy stuff heading down into Na'alehu
Climing back towards Volcano on my way home, it started to get kind of chilly, and my shirt was still soaked with sweat from the dirt riding. I stopped at the 2,000 foot level to put on my jacket liner.
Over the crest in the national park, and heading back down towards warmer air.
Took some backroads home instead of staying on the highway the whole way. This is one of the places that the river comes across the road when it rains and tears up the pavement (we're out in the boonies, no fancy bridges here).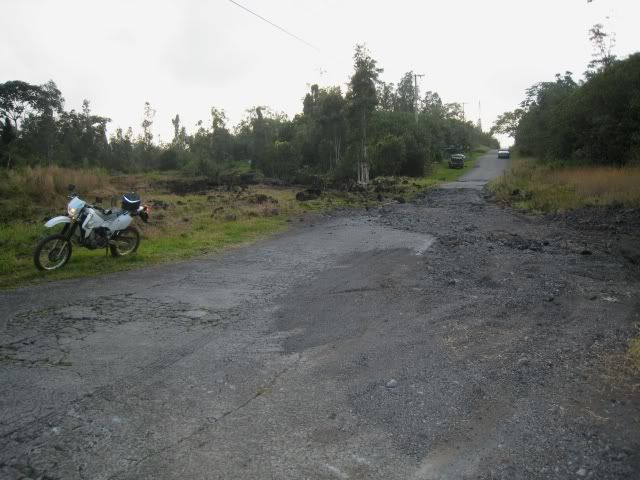 And that's it for my day ride. On a closing note, some people actually found my phone in the weeds just off of a dirt track down by south point, ended up talking to the people with the cane press, who had my mom's phone number in their phone from when I called her, and were able to get in touch with us, meet up, and return my phone! Amazing luck.