I originally wasn't even thinking about going to Big Bend, much less actually camping out while there. When the wifey got confirmation that work was sending her back to California for a bit, and that her time away coincided with a three-day weekend for me, my first thought was "Arkansas!" However, as the first weekend of March approached, a bit of research showed that the weather and road conditions in the hills of northwest AR wouldn't make for very good riding. I decided it would be best to stay south of I-40 to avoid the worst of the winter weather, turned my sights west, and sketched out a long loop through NM, with a run up US-191 in AZ. A further bit of research showed that many of these roads were also sandy with snowy patches, and 191 was actually closed and impassible due to snow. WTF, winter. Maybe I need to stay south of I-20...
I've been wanting to get back to Big Bend National Park ever since me and Vic's first trip out there during Thanksgiving '08. However, it's so far away that doing the trip at a more relaxed, two-up touring pace, you can't do it in a weekend. Last time we took 4.5 days there and back, and we didn't even get a full day in the park. This time, though, going solo at my own pace, without the need to stop as much, I think I can do it in less time. The weather in the park looks to be pretty mild this weekend, so I also decide to try and have a go at it on the cheap, and borrow a friend's tent, sleeping bag, and sleeping pad, which are secured to the pillion by a pair of bungee cords. I decide to purchase a small stove burner that screws onto an 8-oz fuel bottle, a small pan for cooking, and a moka pot for morning coffee. These, plus clothes, hiking shoes, a pair of 2L water bottles, and other assorted supplies are stuffed into the Givi topbox.
I guess this would be a good place to mention that I've never camped on my own before. I've only done it a few times, and almost always with friends who took the lead in supplying the gear and know-how. I've also never gone on an overnight motorcycle trip alone, with one exception--the weekend I bought the VFR, I rode it 1100 miles from NC back to TX in 28 hours, including a 7-hour stop at an interstate motel. Outside of that ride, I don't think I've ever done more then maybe 200 miles by myself; my longer rides are always either with friends, or with Vic on the passenger seat. So, this trip is full of new experiences for me. Wish me luck...
Thursday, 3/4/10 - DFW to San Angelo
250 miles -
Map
Even with a Friday off to make it a long weekend, I knew I would be pushing it to make it Big Bend and back in just three days. I decided to take a bit of vacation as well, and skip out of work after lunch on Thursday. This would allow me to knock a few hundred miles off of my Friday ride.
Thursday morning, all packed up before heading off to work. The tent and sleeping rolls are secured using only two bungees, in an X-pattern... I was surprised at how easy it was to attach them securely.
I got a flat a few days before leaving, so the wheels are shod in Pilot Powers with less then 60 miles on them.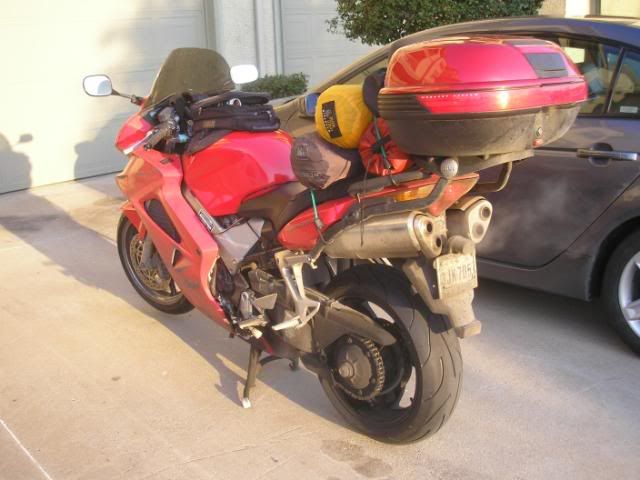 After leaving work, I headed out on I-20, putting some miles between me and the metroplex, before cutting south onto some backroads. I found some decently fun stuff around Lake Leon, just south of Ranger, but it wasn't long before it was back to the flat and straight.
Still preferable to freeway, though...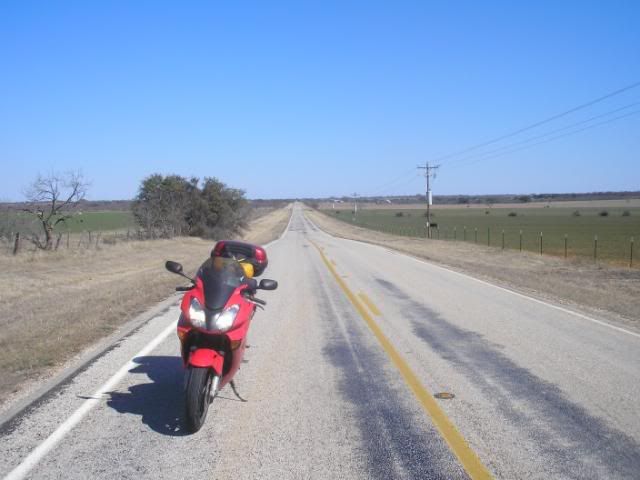 In the city of Coleman, I pick up US Highway 67 southbound. US-67 and I will get to know each other very well over the next four hundred miles.
Coleman High School, boarded up and abandoned. I bet the neighborhood kids have lots of fun daring each other to go inside at night.
The Runnels County Courthouse in Ballinger.
I'm not sure that I've ever actually seen a Fallout Shelter sign like this before.
A 21-year old rancher's son gets a statue on the town square when he is killed after getting bucked off his horse. Seems... odd.
At about 4:30, I pull off of 67 in the city of San Angelo, and proceed to get myself slightly lost while trying to find San Angelo State Park. I pause to refuel and reorient myself, and decide to grab a bottle of wine while I'm stopped. A short time later, I find the park and get a campsite for the night. It's pretty breezy, and setting up camp is a bit of a challenge. The wine helped.
I pitched a tent. *rimshot*
A can of beef stew, reheated over the camp stove, serves as dinner. Yes, I'm drinking wine out of a glass mug.
The wind picks up and the temperature falls into the 40s as the sun dissapears. I quickly clean up, lock everything away in the topbox and crawl into the tent. The sleeping bag is very warm (rated to 15? deg F), and I actually end up sleeping on the pad, using the bag as a blanket. In the middle of the night I woke up, cold, and crawled into the bag itself. I slept pretty well and woke up at around 6:30 with the first light of the dawn.
Sunset.
Friday, 3/5/10 - San Angelo to Big Bend NP
430 Miles -
Map
I brew some strong coffee in the Moka Pot (delicious!) and cook up some instant cream of wheat (ugh!) for breakfast. I eat a couple bites and toss the rest... screw it, I'll stop somewhere on the road for breakfast. Lesson learned: try stuff out at home before bringing it along on the road... just cause it looks good on the box, doesn't mean it actually is.
Moka Pot!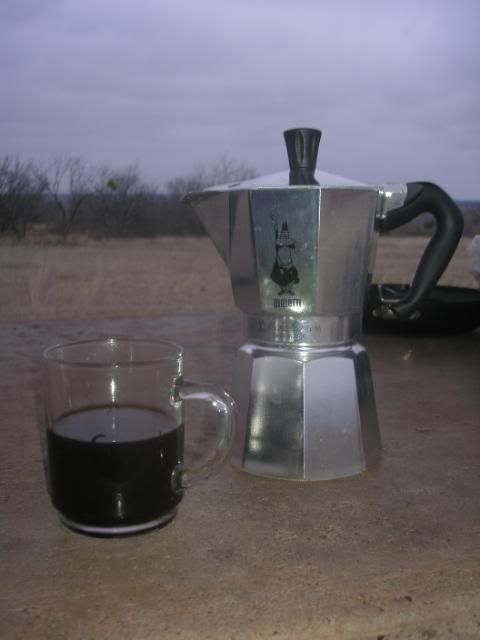 Packing up is a quick process. The sleeping gear is easy to stuff back into their bags, and the tent is very simple to break down. I'm back on the road by 8 AM, speeding southwest along 67. When I say 'speeding,' well... the speed limit here is 70 or 75, I can't remember which. I was making an effort to keep it at 80 or 85, really I was. But the road here is so flat, open, and unpopulated that 85 seems impossible to maintain. Time and time again I hear the exhaust tone increase and feel the slight lurch as the VTEC comes online unexpectedly at around 105 mph. I mentally reprimand myself and slow back down, only to have it happen again a few minutes later. Eventually I just give up and start cruising at 110. If a cop pulls me over... well, he'll understand. Hell, he
lives
here... he
has
to understand... right?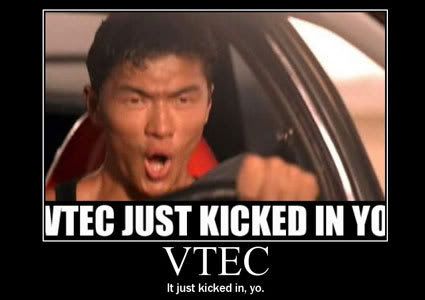 I force myself to slow down as I pass through the dying towns of west Texas. Mertzon, Barnhart, Rankin... they come along in a slow procession, one seemingly the same as the next, identical points on the long, straight line of US-67. The gray, cloudy weather only adds to the feeling that this is one depressing ride.
Stopped for breakfast in Big Lake. MUCH better then instant cream of wheat.
View from the highway in Rankin, TX.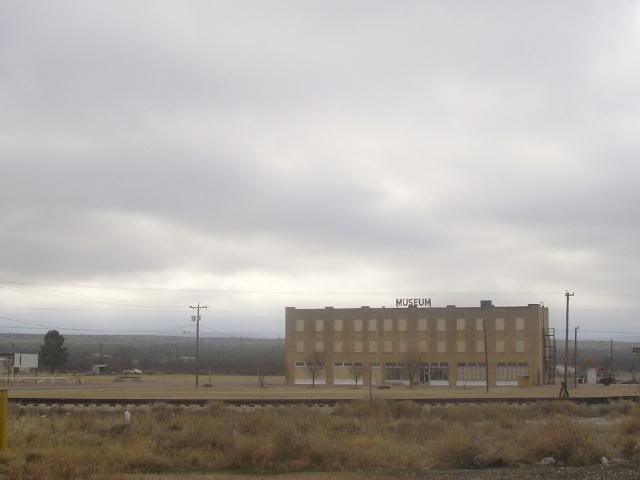 I continue at my elevated pace all the way to Interstate 10, where US-67 merges into it for about 25 miles, before breaking south again for Alpine. My fear of police is much greater along the interstate then on the deserted length of 67, so I slow to 90 as I get onto the 80-mph-limit freeway. I promptly get passed by an older Corolla loaded down with man and what looks to be all his worldly possessions. OK, maybe I don't need to slow
that
much.
Crossing I-10. The clouds began to break around this point, and the day started to warm up.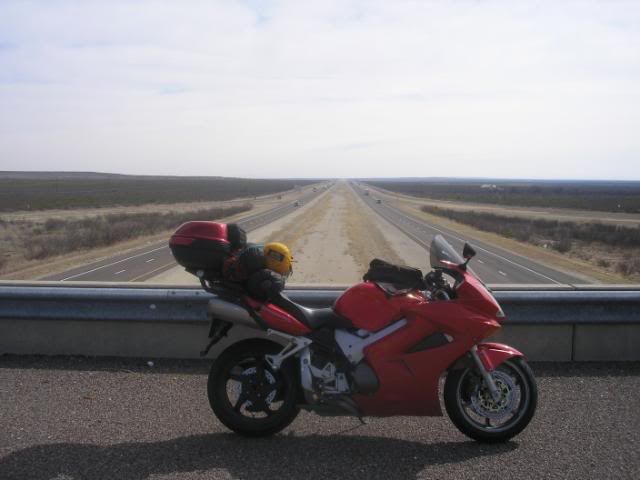 The Marfa Lights viewing area... supposedly you can see strange lights over the desert here at night. *Queue X-Files theme*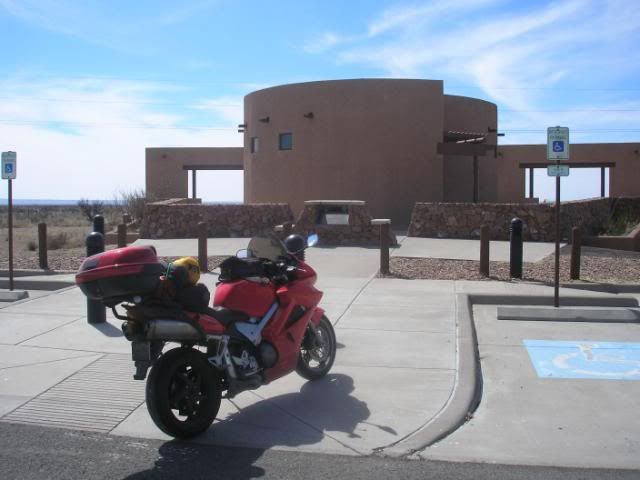 Presidio County Courthouse, Marfa, TX.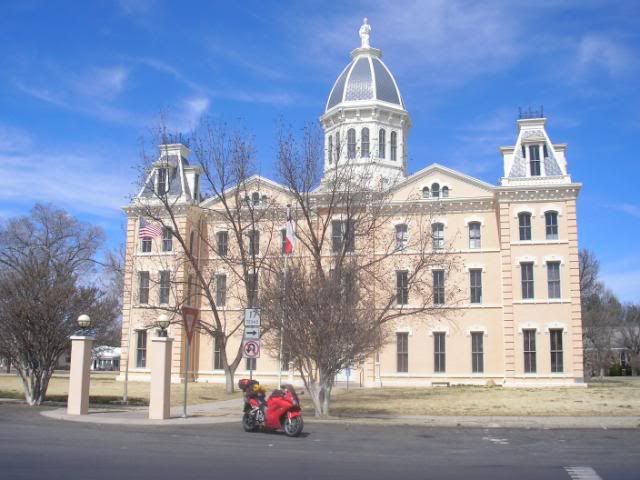 South of Marfa, US-67 begins to get more scenic, and even throws a few curves and elevation changes into the mix. It's by no means a great sport-riding road, but compared to the past few hundred miles, it's heaven.
Yay for something besides flat desert!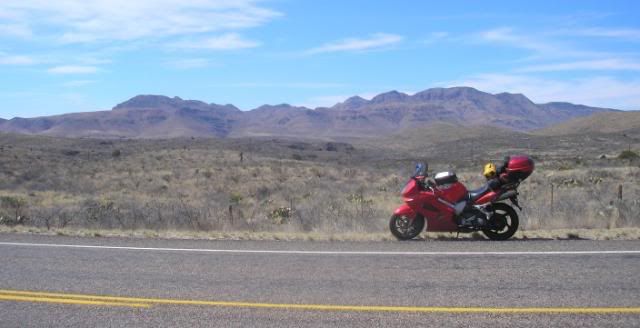 This counts as "twisty" on 67.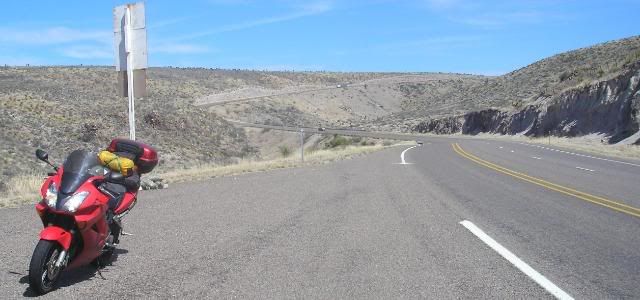 Overlooking the ghost town of Shafter.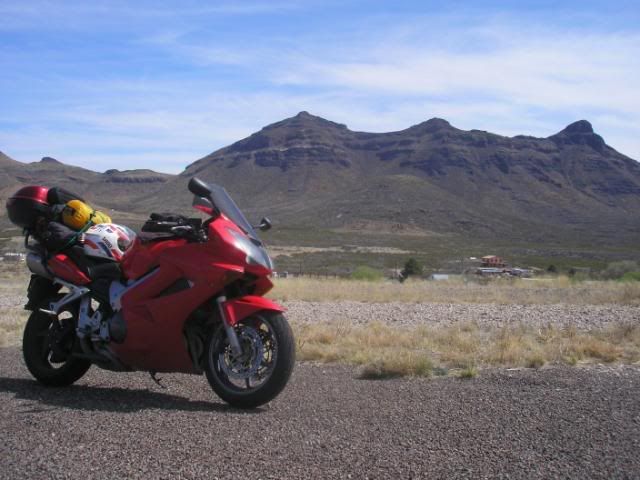 It was about 1:30 by the time I reached the Rio Grande at Presidio, and temperatures had climbed all the way into the low 70s. I stopped to remove the insulated liner from my suit, and open the vents.
An unfortunately named run-down building, or an artful statement on our country's current situation?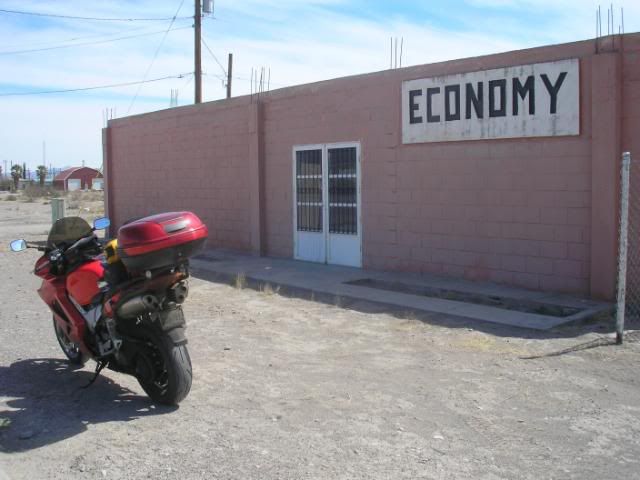 Having finally reached the end of US-67 (thank god), I now turned east for what should be the best riding road of the trip: FM 170, "The River Road." I'm glad to say that it lived up to my expectations in every way: decent pavement, fun riding, and oh-so-very beautiful. For much of it I was actually sticking to the speed limit or so just to take in the views.
Twists and turns along FM 170.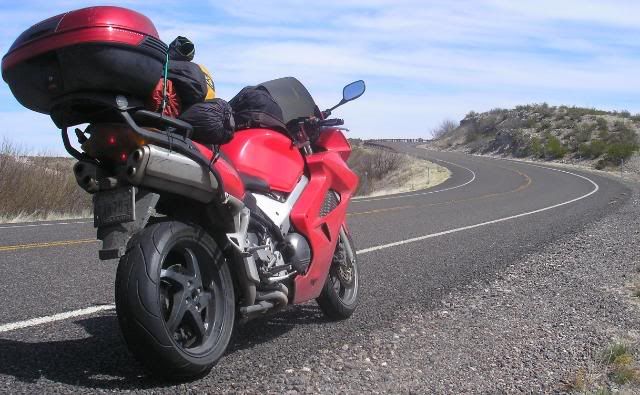 The Rio Grande, with the mountains of Mexico in the background.

They call it a Farm-to-Market road, but I don't think there are much of either around here.
I think the most stunning part of the road is where it climbs probably 500 feet in less then a mile, up and over a huge outcrop high above the river. My lone picture of it from below doesn't do it justice.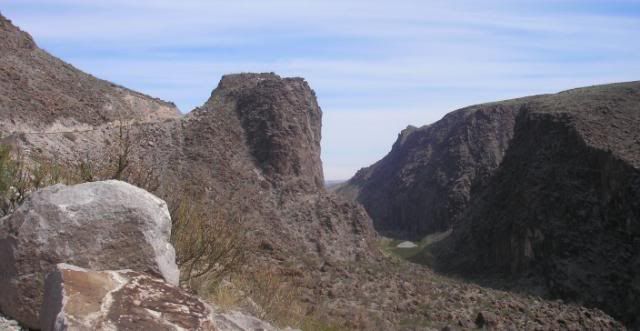 The picture I took from the overlook at the top is better, though.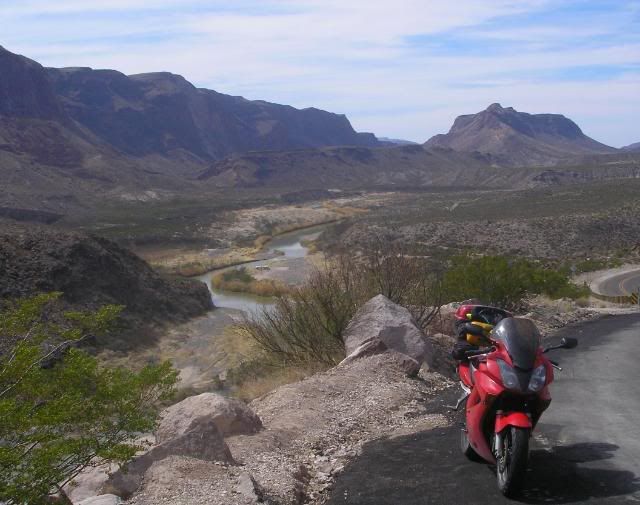 Looks fast, even when standing still.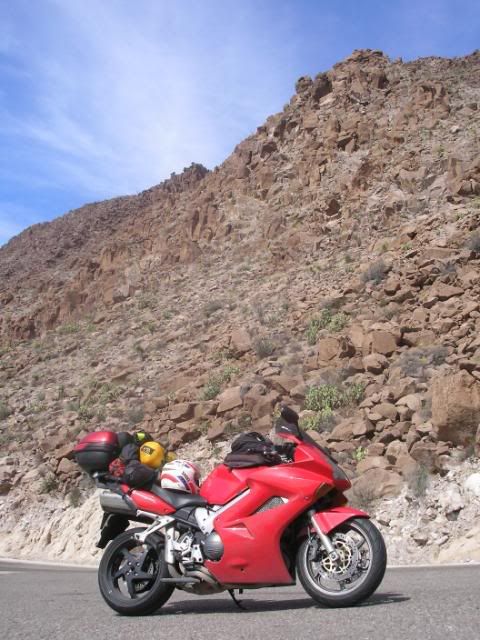 It was very warm along the river, and I was sweating even with all my suit vents open. I was hot and thirsty by the time I reached the town of Lajitas, and decided to stop there to see if I could find an icy beverage, preferably one that includes tequila and a salty rim on the glass. Sadly, there was none to be had.
Seriously, your saloon doesn't open till 5 on a Friday? What a bunch of teetotalers...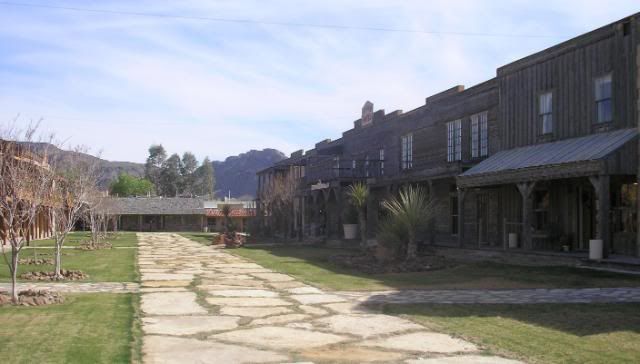 Memories of the margarita I had with dinner last time I was in Terlingua make my mouth water as I continue along. But, no love from the Starlight Theatre, either.
What's with all the 5 PM opening times?!!?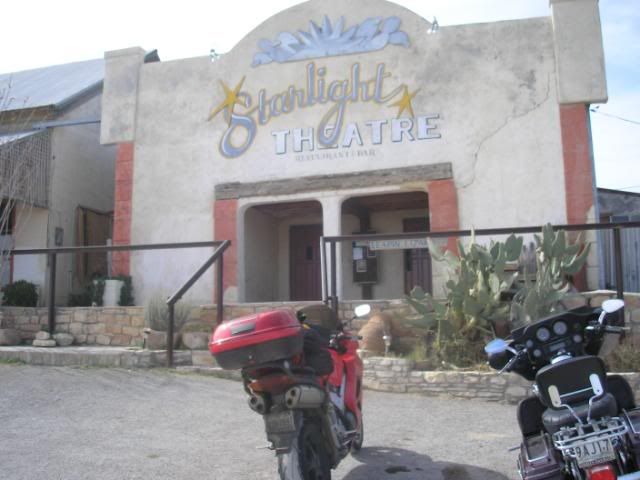 I'm forced to give up on my margarita and continue the ride. 118 south at Study Butte, pay $10 as I pass into the park itself, and cruise on towards Rio Grande Village, at the very far corner of the park. I'm halfway tempted to take a quick side trip down the Ross Maxwell Scenic Drive to Castolon and Santa Elena Canyon, but opt to just get to the campground and set up. I reach the Rio Grande Village at about 4:30 PM, and pull into my reserved and pre-paid campsite.
Home for the next two nights.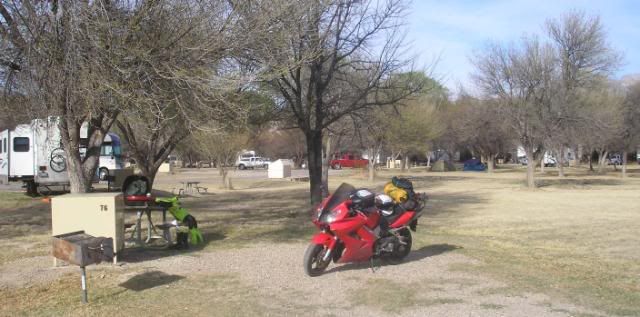 All set up.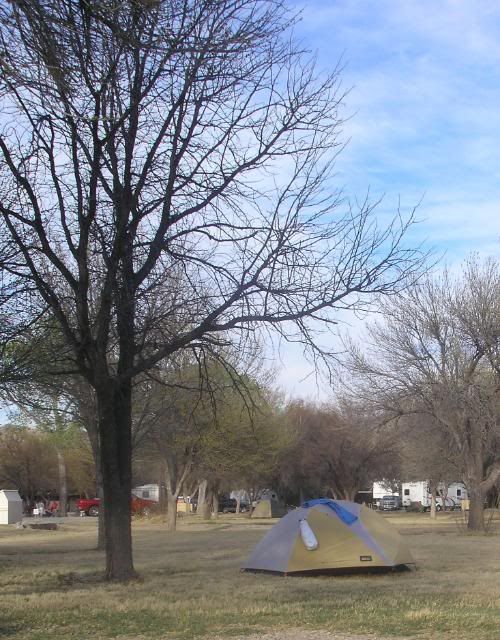 I feel ever so slightly out of place... I'd say 90% of the people there are in either tow-along campers or RVs, with the rest camping out of their SUVs. I don't see anyone else on a motorcycle (well, there are a few who trailered their bikes down behind their RV. Does that count?).
Living the life of luxury.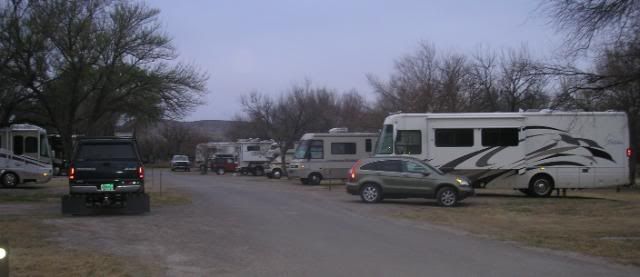 Food lockers are provided at each campsite, with dire warnings to use them. I decided I didn't want any javelinas to mistake my riding gear as food, so I crammed all my stuff in there.
Little pigs are scary.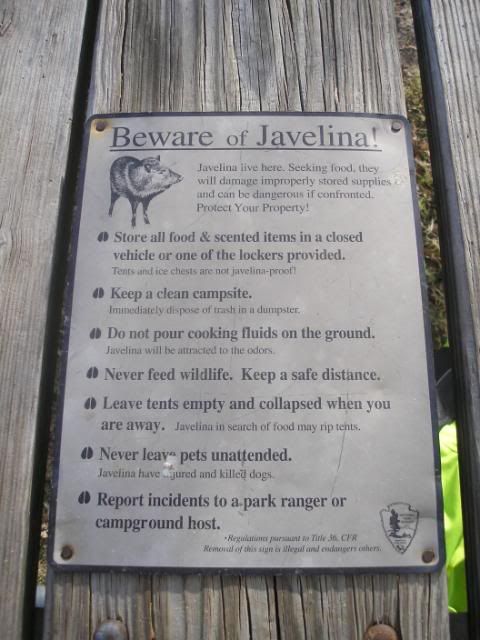 There's still a bit of time before sunset, so at the advice of one of the volunteer "camp hosts," I take a short hike up a hill overlooking river.
Walking through the tall grass in the river marsh... for some reason I kept imagining velociraptors jumping out of it.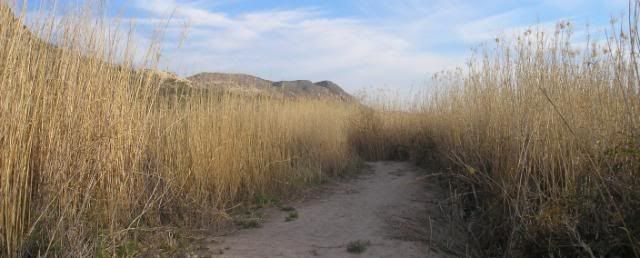 The grasses aren't as scary when viewed from above.
If you squint, you can almost make out a red motorcycle in the campground below.
The cliffs of the Sierra del Carmen to the southwest.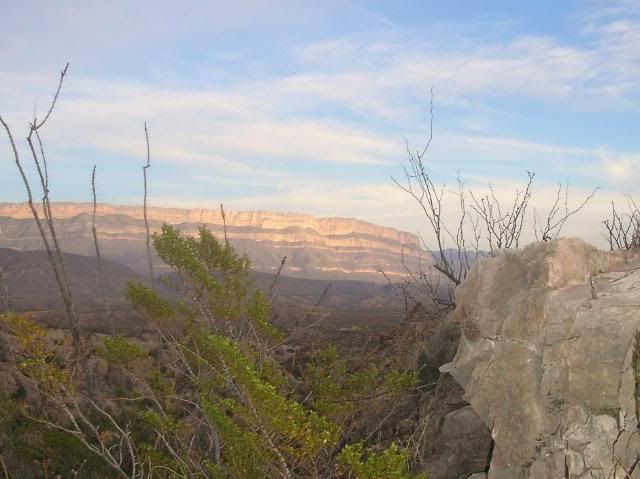 Playing with sunset photos. The Chisos Mountains in the distance remind me of a giant bird (a phoenix, maybe?) rising from the desert with wings outstretched.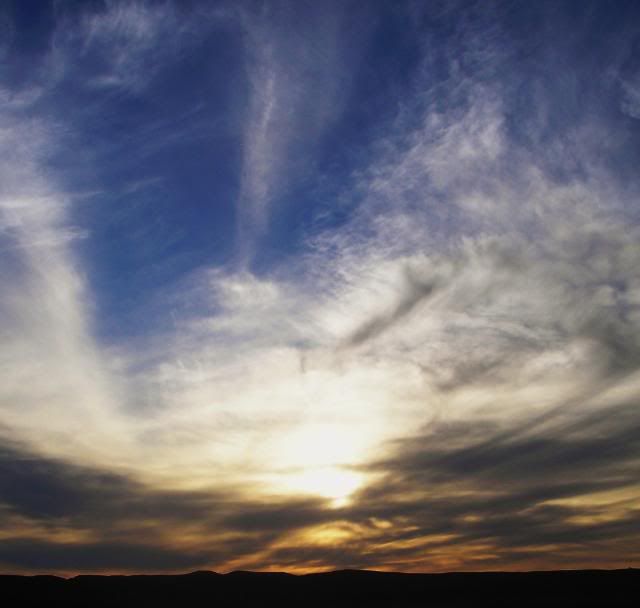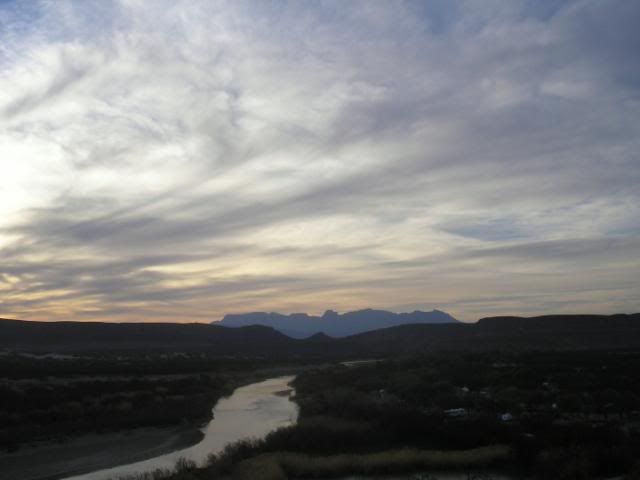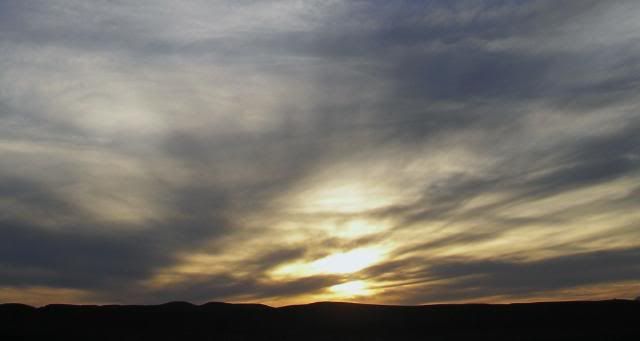 I was pretty hungry after the short hike back to camp, so I set about fixing some food. While browsing the Panther Junction store for dinner earlier in the day, I realized the perfect camping food, that can be had for breakfast, lunch, or dinner, that's delicious, easy to make, and lightweight and compact for easy packing. Yes, I'm talking about a packet of saimin and some fried spam. All that's missing is some fried egg and green onion. So ono.
Dis how we do um local kine, brah.
By the time I was done with dinner and cleaning up, it was fully dark, and I lay out on the VFR with a cup of wine to stargaze for a bit. The wispy clouds that were during sunset had dispersed, and it was perfectly clear. The night sky was amazing, complete with the occasional shooting star, and a few satellites that would track across the western half of the sky, only to blink out directly overhead as they fell into the Earth's shadow. It was a wonderful end to the day.