Setting The Stage
If you ride long enough, hard enough, eventually it's going to happen, and mid-morning on September 25, it happened to me. I took the VFR into a fast left-hand sweeper a bit
too
fast, stood it up and rode it off the curve at about 80 mph, down a grassy hill before hitting a small ditch. The impact bounced be up over the front of the bike, where a brief flight was followed by a sustained sky-ground-sky-ground tumble. I got off extremely light, walking away with only a slightly sore left shoulder and some fresh grass stains on my leathers; the VFR was not so lucky. She had obviously gone through a flight and tumble similar to mine, and would up with the fairings trashed, entire front fairing stay and rear subframe both bent, gas tank dented, forks tweaked, and so on. Totalled at 76,595 miles, three years and eight months after picking her up, brand-new, from Charlotte Honda.
Nope. Not gonna buff out.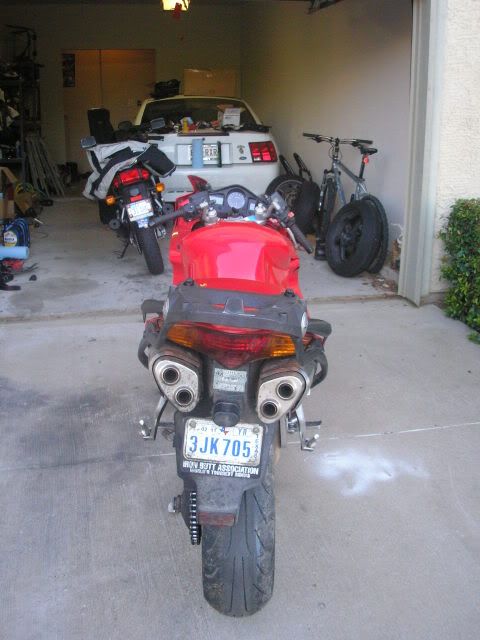 The search for a new bike began right away. I wanted something that I could use for everything the VFR did: 60 miles of daily freeway commute, two-up multi-day touring, weekend sport rides, and trackdays. I wanted comfort, bulletproof reliability, and easy, cheap maintenance. After much research and numerous test-rides, I settled on a Yamaha FZ1, and began to hunt for my next bike. I messaged back-and-forth with a couple of people on FZ1OA and craigslist, trying to find the bike I wanted at the price I wanted, when
this ad
popped up. I immediately fell for the blacked-out look with the naked headlight conversion, as well as the plethora of aftermarket goodies. I messaged Brent (smedzz) right away, and over the next few days, we had a few conversations, agreed on a price, and the deal was done. All that was left now was getting her home...
This is the picture that sold me the bike.
Thursday, October 14: DFW - LGB - Huntington Beach - Laguna Hills
I purchased a one-way ticket from DFW to Long Beach, getting in early Thursday evening. I managed to get all my stuff crammed into two bags that I figured I could sneak onboard as carry-ons, except for my actual riding gear. This meant that whatever I would be wearing to ride, I'd be wearing on the plane. I was almost going to go with my insulated Cortech jacket and jeans, but the forecast showed temperatures in the mountain passes of around 40F, with a slight chance of rain. I wasn't going to risk cold rain in jeans, so I instead chose to bring along the glowstick--my day-glo, one-piece Olympia Phantom suit. I was not looking forward to nine hours of travel time in a suit that is extremely warm and doesn't vent all that well--not to mention the predicted 98F temps I'd see while crossing the Sonoran Desert--but I still figured it was the wiser choice. I didn't know at the time how right I was.
Ready to head to the airport. I like to keep a low profile while traveling.
Racing fans will probably recognize this sight, just after takeoff from a layover in SLC.
I arrived at LGB at 5:45, and had a short wait while Brent fought traffic to come pick me up. He eventually got there, and we had a nice chat about motorcycles, riding, and racing on the drive back to his place in HB. Turns out he's an ex-track rider / sponsored racer who bought the FZ1 as a street bike when he got out of the racing scene, and just hasn't ridden it as much as he thought he would. So, he decided to sell it to someone who would get more use out of it... enter me. After looking the bike over and taking it for a spin around the block, I handed over the cashier's check and we signed the title and bill of sale, and I had my motorcycle. Brent was pretty sad about being bikeless for the first time in quite a while, but he's thinking about getting back into the track scene, and I'm sure it won't be long before he's got another race bike sitting in his garage.
One last pic of Brent and his FZ1 together.
Myself and Brent.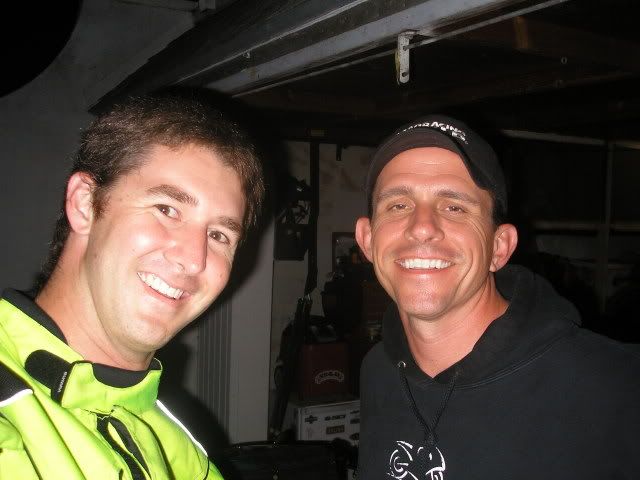 I had hoped for a nice sunset cruise down PCH to my uncle's place in Laguna Hills, but it was full dark by the time I left Brent's. Oh well, I can still ride it and at least
pretend
I'm enjoying the nice views. Vic and I used to come down here all the time on weekends when we were attending USC, and it was neat to see what had changed and what was the same. A bunch of exotic car dealerships sprung up around Newport Autosport, which looks like it has turned into a Tesla Motors showroom. I should have stopped to get a few pictures, but instead I just kept on heading south...
At the intersection of PCH and Newport Coast.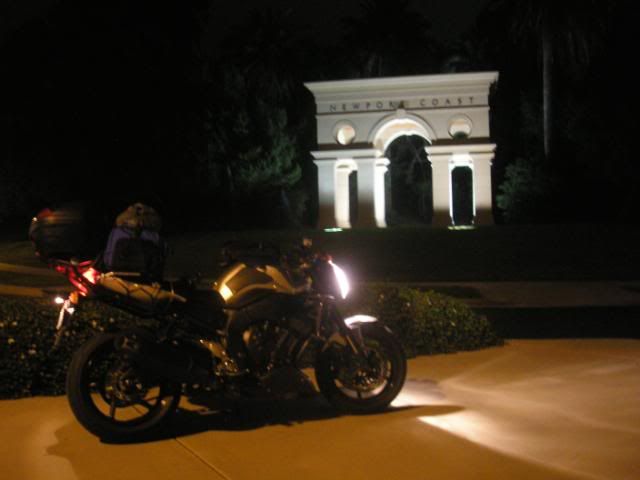 I found Uncle Mike's house without any trouble, despite only having been there once before, several years ago. He was out working at a nearby restaurant, so I grabbed a quick shower and Aunt Debbie and I headed down to see him and have some dinner. Then it was back to the house to organize my stuff and repack the bike for the next day's ride before heading to bed.
Thursday night dinner at King's Fishhouse with Uncle Mike and Aunt Deb.